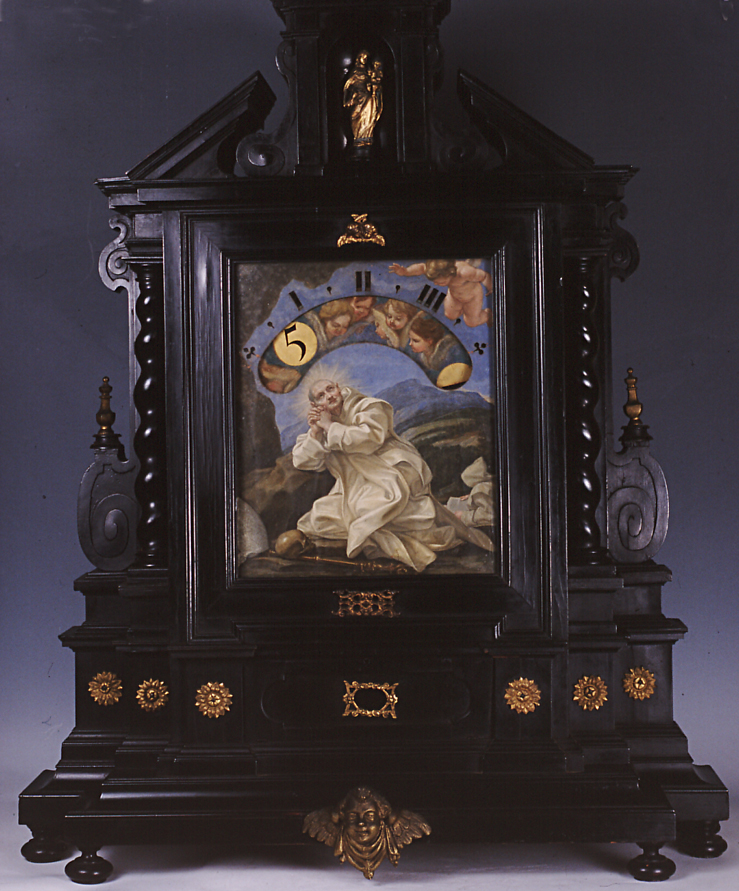 Click here to view image
Giuseppe Campani (Castel San Felice, 1635 - Roma, 1715)
Technique and Dimensions:
Carved ebony, cast bronze, painted copper exhibition, 98 cm
Ground floor lounge (inv. no. M.G.L. 89)
The manufacture of night clocks, very rare and precious objects which were produced between the end of the seventeenth century and the early years of the eighteenth century, had among its pioneers the workshop of Giuseppe Campani who, together with the brothers Matteo and Pier Tommaso, passionate lovers of mechanics , optics and astronomy, figure among the leading protagonists of Roman scientific culture in the second half of the seventeenth century. The invention of the night clock, first developed by the three brothers and later perfected by Giuseppe, dates to the beginning of the papacy of Alexander VII Chigi, and seems to have been the result of a specific request by the Pope. Pope Alexander often suffered from insomnia, and requested a silent clock that could be read during the night. Equipped with a pendulum mechanism, a crank escapement and, usually, with an oil lamp installed within the case, these clocks, intended for leading figures of the day, were generally "monumental", enriched by parts in cast or chiselled bronze and decorated by famous painters. In this case, the figure of Saint Bruno in prayer has been attributed to the hand of Giovanni Battista Gaulli known as Baciccia (Genoa 1639 - Rome 1709), a great Genoese painter who was one of the protagonists of Roman Baroque.