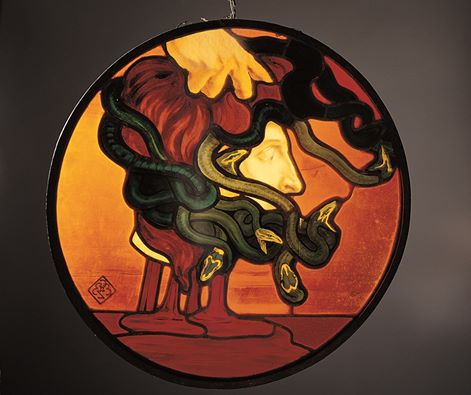 Click here to view image
Giovanni Buffa (Casale Monferrato, 1871-1956)
Technique and Dimensions:
Stained and leaded glass, diameter 56 cm
First floor, Room "L'arte decorativa moderna" (inv. no. GX 1993.396)
Donation Mitchell Wolfson Jr, 2007
«[…] the horrendous image, with serpents winding around it angrily, is held hanging in the hand of Perseus and its petrified terror stands out red against the sky. Previously exhibited at the Famiglia Artistica in Milan, its success was confirmed at Turin». These are the words of Alfredo Melani (September 1902) commenting on the exhibition of the lead glass tondo – created by Guido Zuccaro based on the cartoon by Giovanni Buffa, on behalf of the Vetrate Artistiche G. Beltrami factory of Milan – at the First International Exposition of Modern Decorative Art in Turin.
Breaking with the past experiences modelled on historicism, the Turin exhibition, whose official program provided for the mandatory exclusion of works distinguished by «simple imitations of past styles», in the name of total adhesion to modernity, was the first exposition with international reach organized in post-unification Italy. And the tondo was adherent to a research current still in vogue, where the model of a demonic and mutant woman – in its disturbing physiognomic similarity to the animal world – had already taken the upper hand over the traditional angelic, idealized female depiction. This work showed evident expressive and iconographic analogies with the literary and mythological transpositions of the international symbolist culture, from Franz von Stuck to Gustave Moreau.