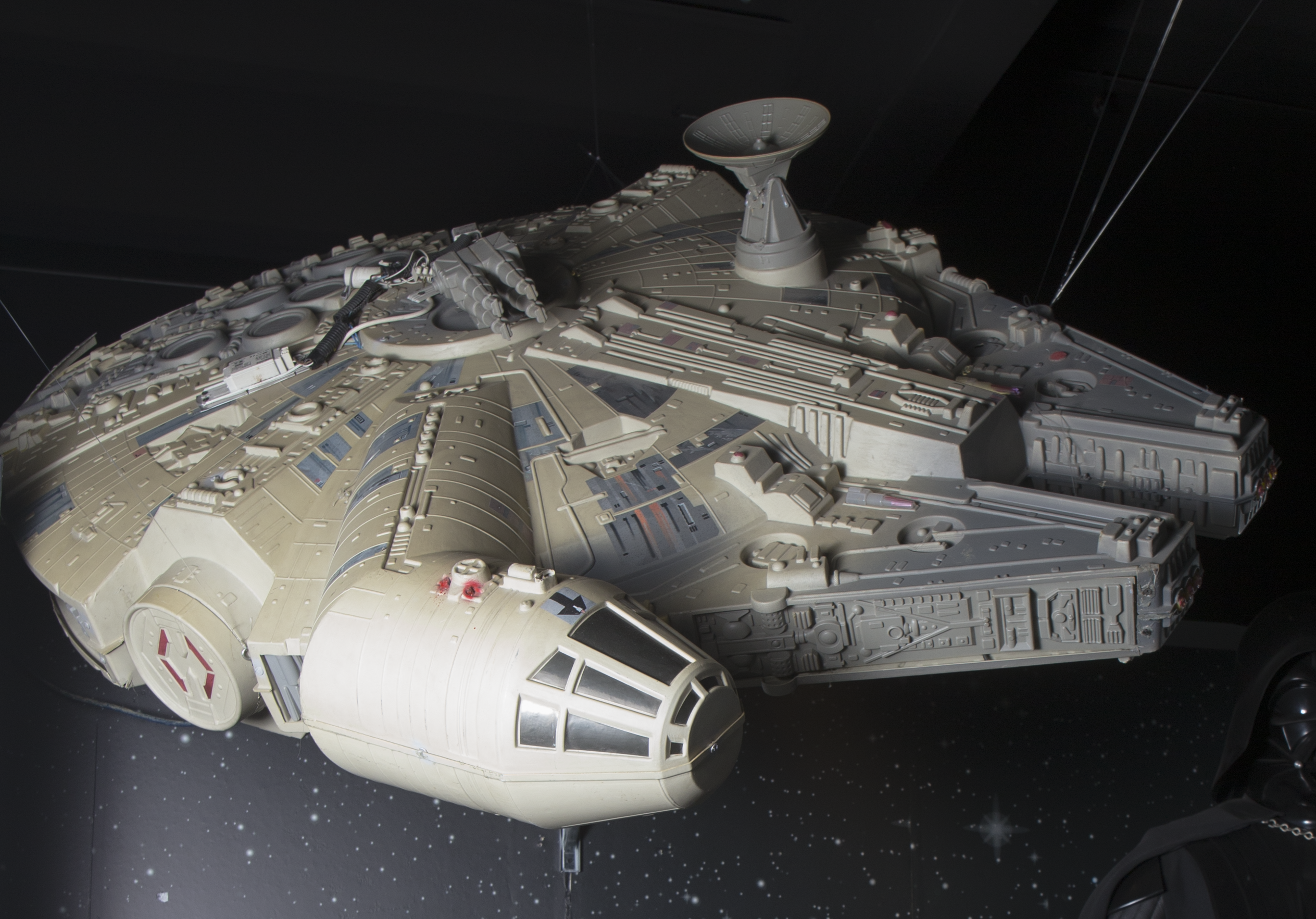 Click here to view image
Model of the spaceship "Millennium Falcon"
The model reproduces the spaceship, the Millennium Falcon, which is driven by Harrison Ford "Ian Solo" and by his co-pilot, the wookie Chewbecca. The spaceship is one of the main-characters of the saga "Star Wars" by George Lucas. The first movie was "Star Wars – Episode IV. A new hope" (1977). The other two movies of the first trilogy are: "Episode V: The Empire Strikes Back" (1980) and "Episode VI: Return of the Jedi" (1983). In 1999 Lucas filmed a trilogy of the prequel, which means he represented the story which took place before the original trilogy. The titles are: "Episode I: The Phantom Menace" (1999), "Episode II: Attack of the Clones" (2002), and "Episode III: Revenge of the Sith" (2005). In 2012 the Walt Disney Company bought the rights of the series, and they began the production of a new trilogy. They realised the sequel, thus representing what comes after the last episode of the original trilogy of 1977. These are the titles: "Episode VII: The Force Awakens" (2015), "Episode VIII: The Last Jedi" (2017), and "Episode IX: The Rise of Skywalker" (2019). There are also two Anthology films: "Rogue One: A Star Wars Story" (2016) and "Solo: A Star Wars Story" (2018). Today the Star Wars universe is infinite just like the one in which the saga is set: multiple spin-offs, TV series, comics and video games. It's not only a series of movies, but this is a cultural phenomenon which has affected different generations and continues to fascinate kids and adults, since 1977.

Fun fact – When Luke Skywalker jumps into space to save himself from Darth Vader, in the movie "Episode V: The Empire Strikes Back" (1980), he doesn't actually scream. In the remastered version of 1997, they added the sound effect of the scream. This was not appreciated by the fans due to the fact that Luke not screaming emphasized that he didn't fear death. In the following versions, the scream was removed and this detail remains solely in the version of 1997.
Curiosity: When Luke Skywalker, the protagonist, throws himself into the void to escape from Darth Vader in 1980's "Empire Strikes Back", he doesn't actually scream. In 1997, in the remastered version, they added the scream sound effect. An idea that many fans did not appreciate. So, the scream was removed in the subsequent editions. To date, therefore, this detail has remained only in the 1997 version.