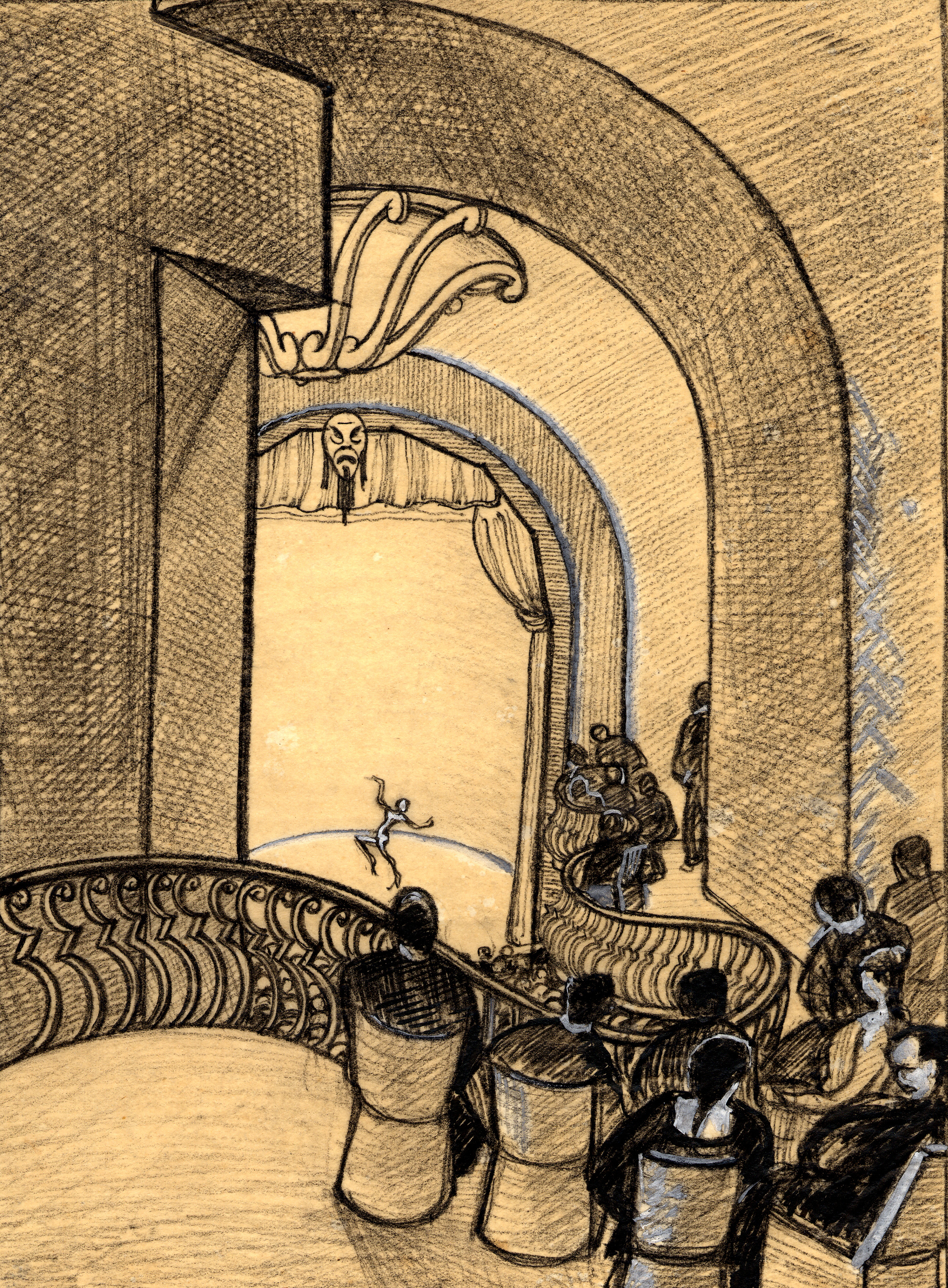 Click here to view image
Virgilio Marchi (Livorno, 1895 - Roma, 1960)
Technique and Dimensions:
Greasy pencil on paper, 33 x 29 cm
In 1921 Anton Giulio Bragaglia commissioned Virgilio Marchi to build the new headquarters of his House of Art with an adjoining theatre, by recovering the ancient baths attributed to Septimius Severus in Avignonesi street in Rome. "... the game of the vaults, launched in bizarre clashes on the pillars and arches of these so different and amazing basilicas, effortlessly reminded me of the escapes and whims of Futurist architecture" (A. G. Bragaglia). In the sketch you can see what Bragaglia called "a graceful balcony of eighteenth-century taste". "The stage was built in opening sections. Above the stage, the latticework of the attic room was kept over the eighth meter high, with the shots to perfection. The fragments of the scenes came out from the side and under the stage. The dressing rooms were obtained in ancient tunnels on the left. The room, including the circular balcony, had two hundred seats and many standing. " (A. G. Bragaglia). "The Bragaglia theater is so new to be new; there is nothing to say. Consider that, if the ancient theater was outdoors, it is underground; and that, if the former was concerned with ensuring the visibility of the stage for all spectators, this is designed so that the stage can be seen from almost nowhere in the hall. I attended the first issue of the program - Hedge in the north-west, comedy and music by Massimo Bontempelli - from the gallery, in a strategic point that had been recommended to me as a position that offers a good view. Because the underground hall is occupied, in the center, by a huge pylon, which prohibits the spectators on the right from looking to the left, those on the left from looking to the right. As for those in the gallery, I will say that by combining the effects of the sinuosity of the balcony with the presence of the inexorable pylon, they can be satisfied if they can see certain areas of the scene. But that doesn't hurt; on the contrary, it increases surprises, stimulates curiosity, gives a sense of the unpredictable and conquered to what one manages to grasp" (Silvio d'Amico).