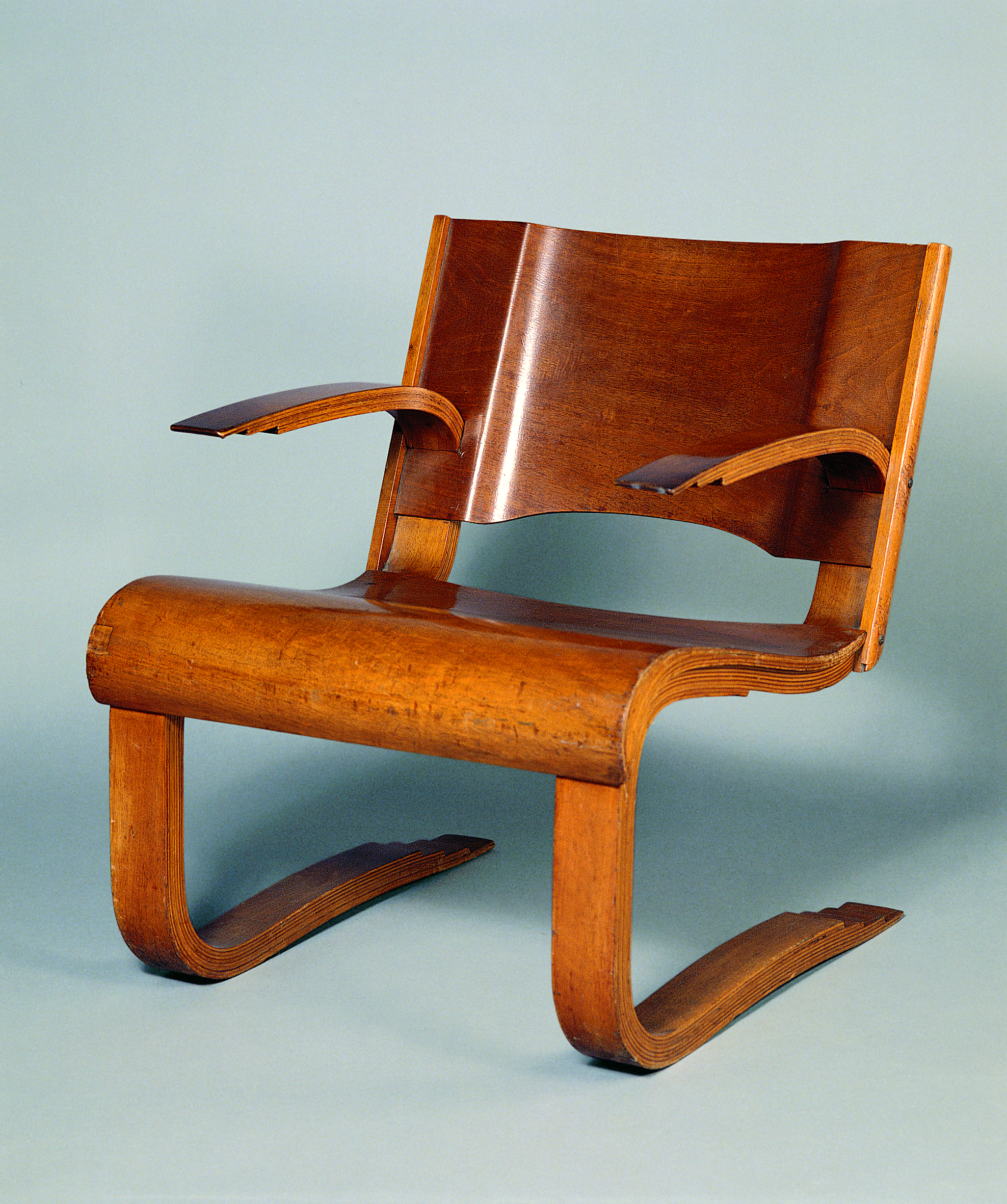 Click here to view image
Luigi Vietti (Novara, 1903 - Milano, 1998)
Technique and Dimensions:
Curved lamellar walnut, 72 x 60 x 66 cm
Second floor, Room "Interni razionalisti" (inv. no. GG 1998.1)
Donation Port Authority of Genoa
On 6th May 1933 the fifth edition of the International Exposition of Modern Decorative and Industrial Arts opened its doors not in the Villa Reale of Monza, but instead in the Palazzo dell'Arte, which had been specially designed by Giovanni Muzio and built near the Parco Sempione in Milan.
It promised to be a significant turning point. The event expanded the exposition theme, now also dedicating itself to modern architecture, as seen in the title. In addition to presenting "authentic and original modern applied art productions" and the most significant examples of international modern architecture, the new organising committee, comprised of Carlo A. Felice, Gio Ponti, and Mario Sironi, decided to give ample space to mural painting within the monumental spaces of the new building. Finally, an Exhibition of habitation was also organised in the park, offering the public the chance to see some typical constructions "conceived and furnished according to the needs and customs of today".
In this section, the group of architects from Liguria, led by L.C. Daneri and L. Vietti and composed of G. Crosa di Vergagni, A. Fineschi, R. Haupt, R. Morozzo della Rocca, G.C. Nicoli, and G. Zappa, presented an element of the Casa a struttura d'acciaio, "i.e., a section of a tall and wide modern home for collective dwelling", which was to be created by combining standardised elements of the same size, which "will have to provide for what is necessary for the solution of all problems inherent to the life of the population socially organised in a modern and superior manner; this will contribute supremely to the physical, intellectual, and moral improvement of the race". On the fifth floor, in the living room of the apartment for a four-member family, Vietti presented his armchair model used in the furnishing of the Andrea Doria maritime station in Genoa, already operating for a couple of months but officially inaugurated on 28th October 1933. Made in curved multi-layered wood, the chair shows notable similarities with the famous chairs made in birch wood and plywood that the Finnish architect Alvar Aalto designed in 1929 and exhibited in the Finland section of the following Triennial. Its simple, functional form and the choice of materials made the design of the armchair perfect for industrial mass production. After all, this attention to new production processes marked the overall work offered by Vietti, as Daneri did not fail to point out: "The furniture is interesting due to the presence of numerous pieces that can be disassembled and assembled, to be laid out as the inhabitant needs or desires. The wardrobes are all the same type for standardised production and they can be placed alongside or on top of one another".