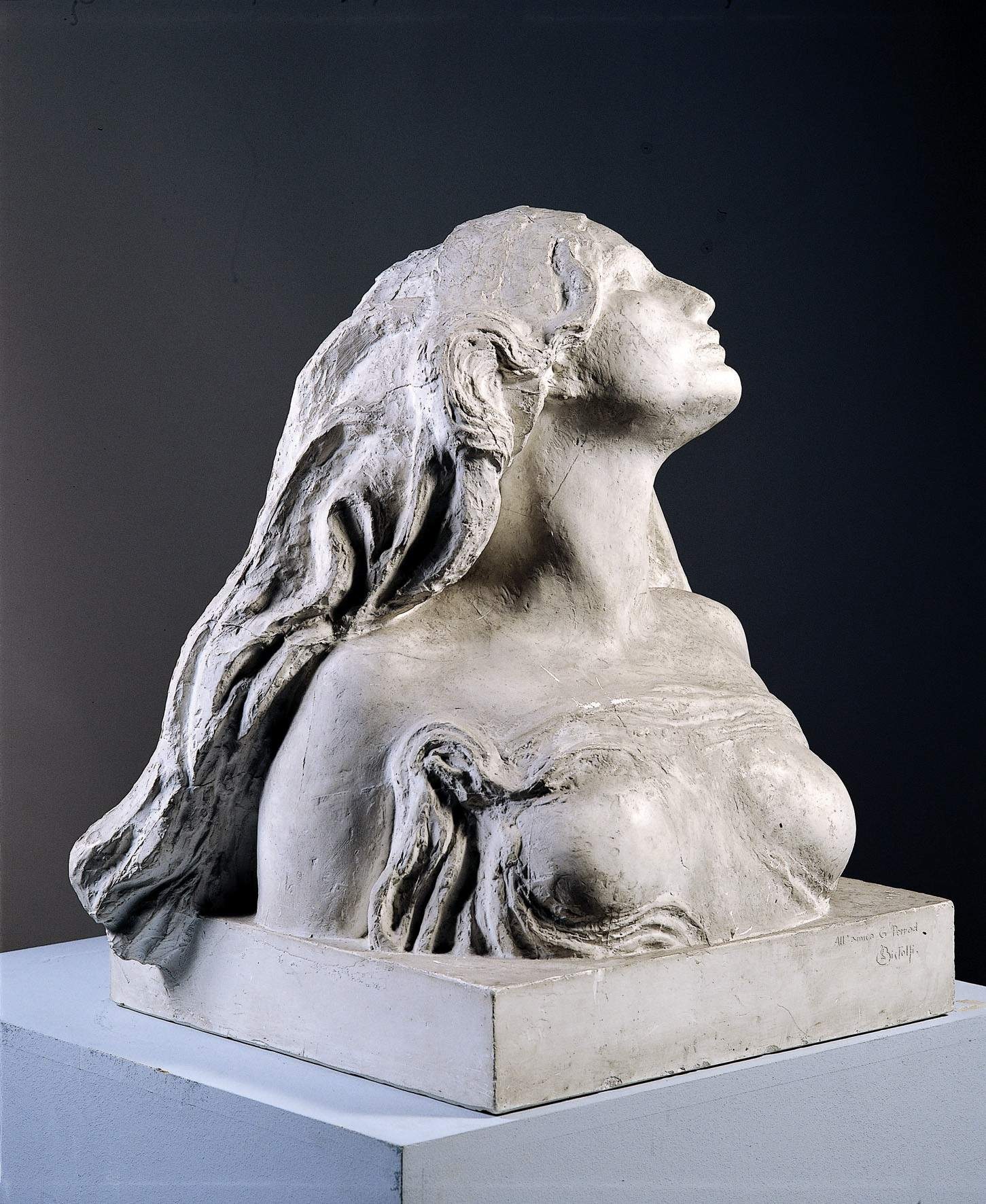 Click here to view image
Leonardo Bistolfi (Casale Monferrato, 1859 - La Loggia, 1933)
Technique and Dimensions:
Plaster, 72.5 x 63 x 50 cm
First floor, Room "L'arte decorativa moderna" (inv. no. 87.111.6.1)
Donation Mitchell Wolfson Jr, 2007
A promoter of the concept of "beauty socialism", derived from the philosophy of William Morris, Bistolfi was an advocate of the idea of a requalification of life and the democratization of artistic fruition through the integration of all arts in a sole global project (Gesamtkunstwerk, according to the German definition), as it had been theorized by Henry Van de Velde: «[…] we cannot admit any distinction meant to establish the superiority of one aspect of art or of one of its expressions over the others».
This program involved many artists in Italy. Like Van de Velde, they decided to fully dedicate themselves to decorative arts and the design of environments. We can see an example of this in the case of Giacomo Cometti, who started working at the studio of Leonardo Bistolfi after completing his sculpture studies in Turin in 1891 and who focused on designing furniture, making his debut in 1900 at the Universal Exposition in Paris, assisted by Bistolfi himself.
In Bistolfi's preparatory sketch for the Abegg tomb in Zurich called Life and Death. Towards the Light, we can see clear similarities with the image of The Alp in the funerary monument built for Giovanni Segantini in Saint-Moritz (1899-1906), while also expressing his innovative sculptural relationship with space. And his full adhesion to Liberty stylistic characters emerge in this seductive female figure. Originating from the name of the Arthur Lasenby Liberty atelier in London, "Liberty" was the term used for Art Nouveau in Italy.