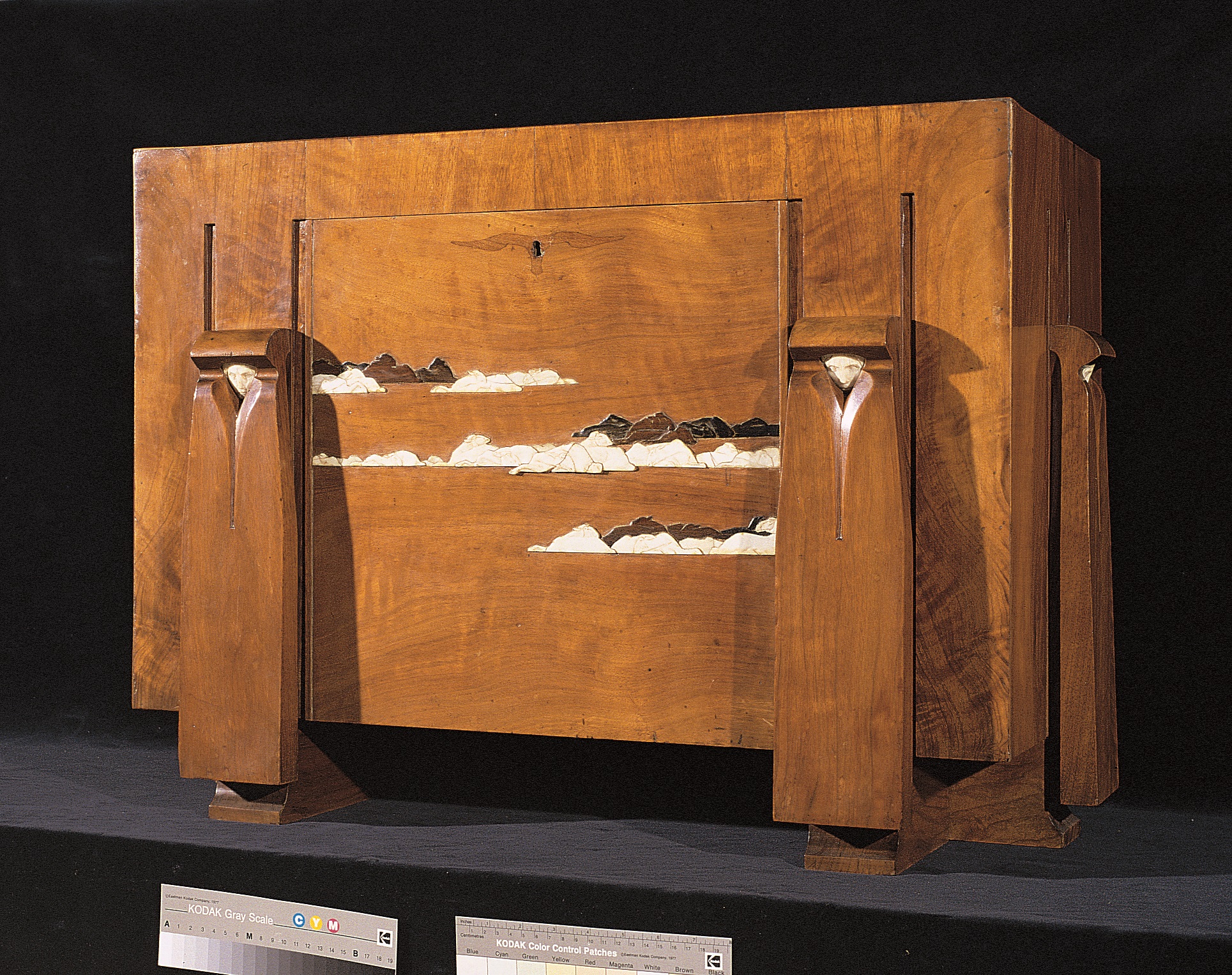 Click here to view image
Duilio Cambellotti (Roma, 1876-1960)
Technique and Dimensions:
Walnut with ivory and ebony decorations, 54 x 80 x 40 cm
First floor, Room "Duilio Cambellotti e l'ambiente romano degli anni Venti" (inv. no. GX 1993.209.209)
Donation Mitchell Wolfson Jr, 2007
While the Lazio countryside, with its "intense charm made up of primordial dreams of sadness and abandonment", was one of the main sources of inspiration for the multifaceted artistic experience of Duilio Cambellotti, his cabinet called Night – exhibited at the International Biennial of Monza in 1925 in the "Room of the inhabitants of the Roman countryside" – is the most emblematic work of his archaic aesthetic and cultural imagery.
The lyrical idealisation of Roman agriculture is expressed in his furniture production through the revival of authentic models of rural tradition. This was seen at the International Exhibition in Rome in 1911 in his staging for the Hut of Agro Romano, where ethnographical documents and furniture made by farmers were on exhibit. He also had a vital influence on the artistic training of his students working in the field of ceramics, from Romeo Berardi to Roberto Rosati, from Renato Bassanelli to Melchiorre Melis.
With squared, compact forms, the stylised representations of the farmers of the Roman countryside on the sides or the ornamental simplification of the friezes in ebony and ivory, portraying sheep at rest, the cabinet Night also embodied the main expressive tensions of the new emerging artistic trend which, starting from the second half of the 1910s, rejected the stylistic models of Art Nouveau in the name of new compositional settings.
In a pressing conflict between vernacular experiences, avant-garde experimentations, and classical references – often resolved with ironic, modern, and seductive forms, as in the case of the ceramic production of Gio Ponti for the Richard Ginori and of Guido Andlovitz for the Società Ceramica Italiana in Laveno –, Art Deco researches were expressed through a common tendency towards formal simplification and composition rigour.