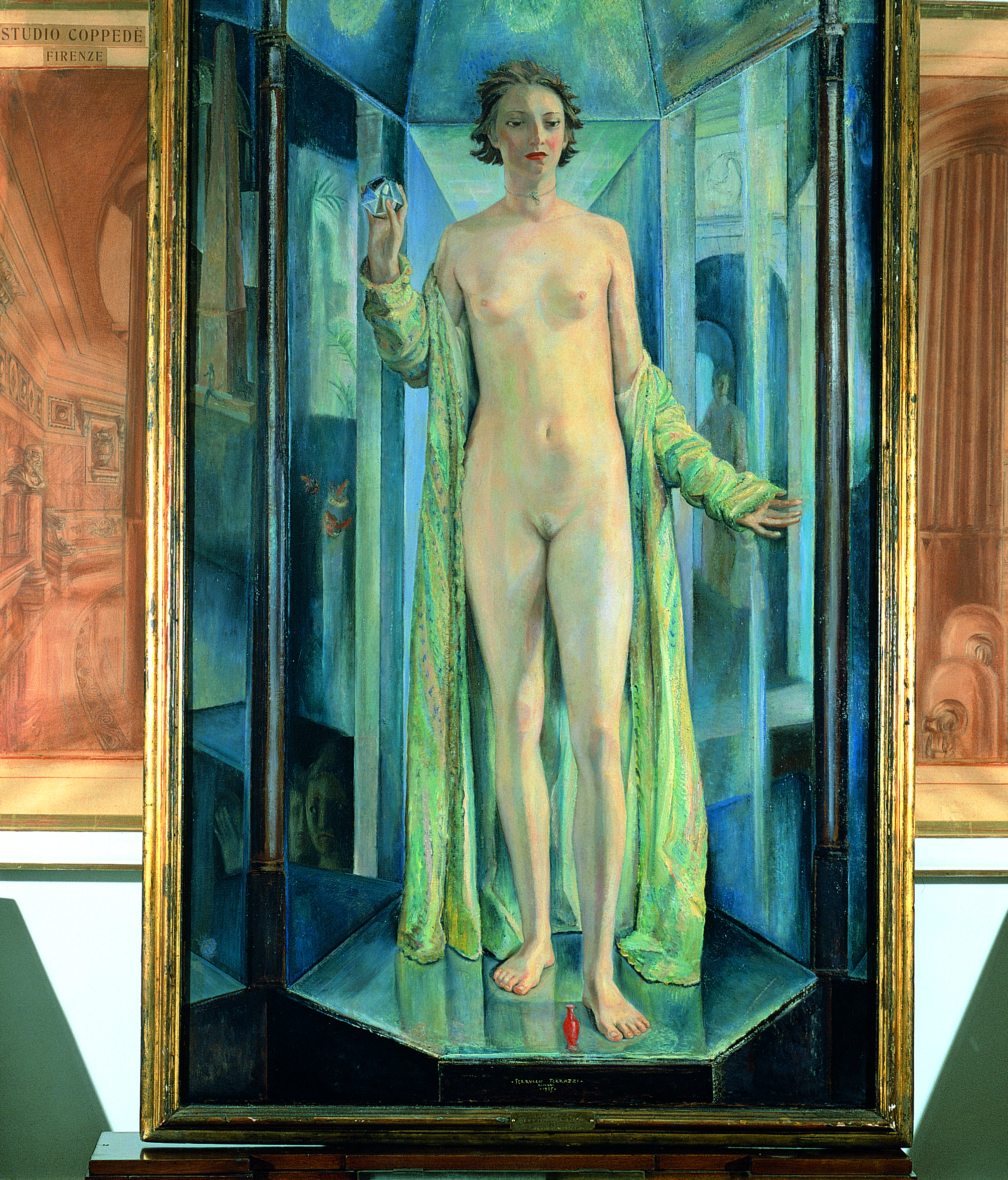 Click here to view image
Ferruccio Ferrazzi (Roma, 1891-1978)
Technique and Dimensions:
Oil on panel, 159 x 93 cm
​​​​​​​First floor, Room "Duilio Cambellotti e l'ambiente romano degli anni Venti" (inv. no. GX1993.473)
Donation Mitchell Wolfson Jr, 2007
«I think it was the doll I saw with Depero in the wonder of an evening in Milan, in a hairdressers' window […]. I think it was that nervous prismatism of our age brought back to life, rigid, malicious, and fixed in that girl […]». This is how, in 1931, Ferruccio Ferrazzi remembered the evocative vision that had inspired Idol of the Prism¸ his most famous work, considered a masterpiece of Magical Realism, a painting movement of 20th century Italy, famed for its disturbing suspended atmospheres. By placing the prism motif – often recurring in his painting research – in the center, in the synthetic simultaneous nature of this work, Ferrazzi developed a balanced expressive dialogue between stylistic and iconographical references to Renaissance tradition as well as to Boccioni's aesthetics and the mechanical quality of the mannequins painted by Depero, the creator of a watercolor on the same subject in 1917.
In depicting this disturbing and enigmatic androgynous figure, instilled with the dynamic reflections of mirrors in an alienating upending of prospective cuts, Ferrazzi thus adopted the fundamental stylistic tensions of the varied 20th century culture, developing a personal process of synthesis between his modern aesthetical sensibility and the direct references to classical tradition, at that time prevalent in the international climate of "returning to order".
In particular, the Roman artist recaptured the tendency to softening the realist structure of the painting's composition in the perception uncertainty of an alienating and ambiguous representation: a visual oxymoron that was frequent in the painting movement Realismo Magico.