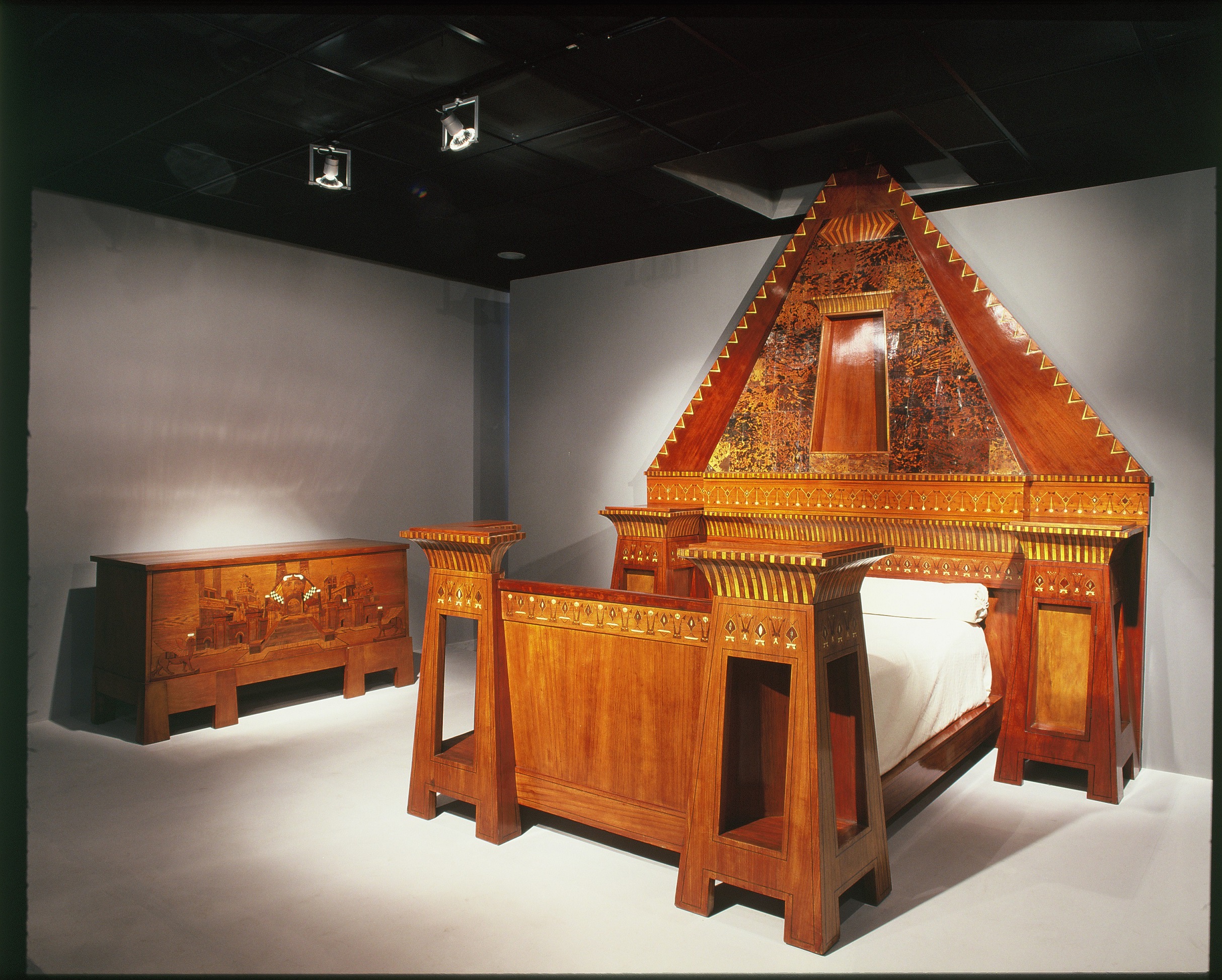 Click here to view image
Alberto Fabbi (Bologna, 1858-1906)
Technique and Dimensions:
Oak with ivory, mother-of-pearl and semi-precious stones inlays, 296 x 275 x 280 cm; 90 x 165 x 63 cm
First floor, Room "Esotismi" (inv. no. GX1993.194; GX1993.25)
Donation Mitchell Wolfson Jr, 2007
Enthusiasm for cultures that are far away in space and time has always marked western culture, especially starting from the 18th century when the "chinoiserie" trend became popular. However, it was at the start of the 19th century when interest in the exotic – a term extremely broad and vague used for subjects and motifs from very different eras and geographical areas all pigeonholed as "oriental" – came back with renewed strength, also favoured by historical events and other types of happenings, such as the Napoleonic campaign in Egypt (1798-1801), Japan reopening for trading (1853), the building of the Suez Canal (1869) and later the Panama canal (inaugurated in 1920), the intensified geographical explorations, the formation of the large colonial empires, and even the discovery of the tomb of the Pharaoh Tutankhamun (1922), perhaps the greatest archaeological find of all time.
It was almost always an interest which did not originate from philological concerns, but instead mainly looked to draw near to different cultures in order to create – especially in paintings, sculptures, and graphic design – a repertoire of atmospheres, iconographical themes and decorative subjects which were to confirm westerners' image of non-European cultures, a fabulous, remote, instinctive, and barbaric world and way of life, that was sensual if not explicitly erotic, basically a "parallel" reality to the western, bourgeois, and positivistic world.
The decorative arts and furniture also saw the prevalence of a similar interpretative flippancy. In 1890, two Bologna-born orientalist painters, Fabio and Alberto Fabbi, made a bedroom inspired by Egypt in the time of the pharaohs for Palazzo Gonzaga in Guastalla, halfway between Mantua and Reggio Emilia. They designed a monumental bed with a pyramid shaped headrest surrounded by walls and towers, two chests of drawers with fantastic views of the cities of Nineve – which was Sumerian, not Egyptian – and Thebes, while the ceiling and boiserie panels were inlayed with philosophers, warriors, and mythical figures against a background of exotic landscapes.