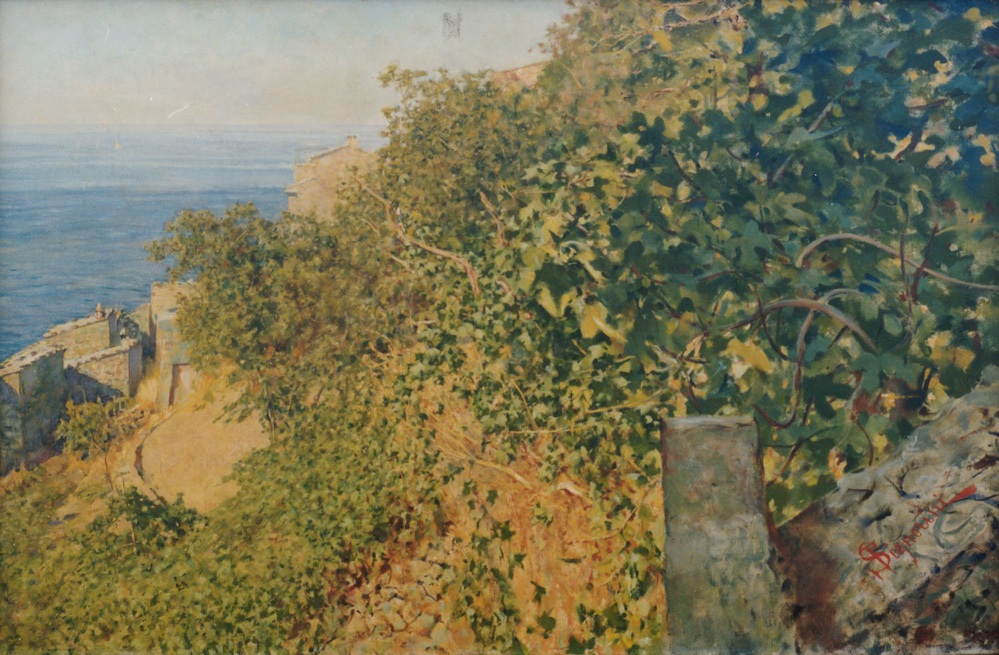 Click here to view image
Telemaco Signorini (Firenze, 1835 - 1901)
Technique and Dimensions:
Oil on canvas, 58 x 90 cm
First floor, Landascape Room (inv. co. GAM 1577)
Legacy of Luigi Frugone, 1953
Painter, critic and polemicist, Signorini, the son of a fine Florentine landscape painter, was one of the leading lights of the Macchiaioli group, a group of artists who gathered in Florence at the Michelangelo cafe, and from 1855, had launched a "revolution" in the field of painting aimed at over throwing the prevailing "academic" culture.
His enthusiasm for experimentation took him first to Venice and then to Liguria, particularly the eastern part, where he would return in later years, attracted by the intensity of the summer light reflected and amplified by the sea.
The location depicted in this bright landscape, exhibited at the Venice Biennale in 1897, was for a long time mistakenly identified as being Elba, but it is rather testimony to the painters frequent visits to the Ligurian Riviera, with summer stays in the Cinque Terre between 1892 and 1899.
The composition of the painting is diagonal starting, in the foreground in the lower right corner, with a dry stone wall which borders a leafy fig tree, from where, through a succession of sloping terraces, one reaches the upper corner, diagonally opposite, with a view of the sea and the sky. The brushstrokea, in the foreground are more undone "stained" until it is defined in the climb towards the horizon, and the colour enhances the brightness and luminousity of this suggestive setting.