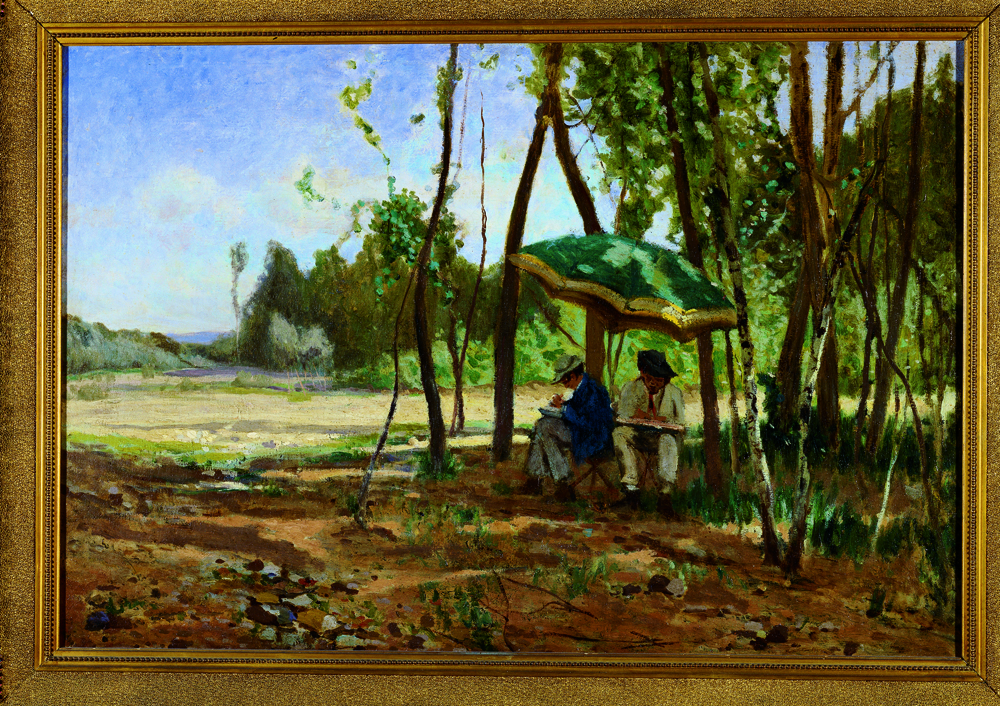 Click here to view image
Ernesto Rayper (Genova, 1840 - Gameragna, 1873)
Oil on canvas, 58 x 85 cm.
From 1858 a student of the Ligustica Academy of Fine Arts in Genoa, Rayper was guided by the painter Tammar Luxoro to painting landscape and encouraged, first to visit the studio of the painter Alexandre Calame in Geneva in 1861 and then to look at the work of Antonio Fontanesi. Soon the sensitivity of the young Rayper opened to the school of Barbizon, Corot and Daubigny, as well as attendance at the Piedmontese artistic circles and - thanks to the support of his painter friend Ernesto Bertea -, the "School of Rivara" which, in particular, was decisive in his formation. Important contacts were made with the Macchiaioli, whose work he saw at the exhibitions of the Genoese art dealers where he exhibited from 1862 to 1872 and who he met during a stay in Florence between 1863 and 1864.
Genoa and its Rivieras, the Canavese, the areas around Ticino, the Toce, Lake Nemi, the hills of Florence, the Tuscan beaches of Gombo and the areas of Bormida were recurring subjects in his solemn landscape reflections.
The artists around the so-called "Grey School" led by Luxoro - whose parasols "white and straight like champignons", dotted the landscapes around this river with a particular pattern of water flow (floods in the rainy seasons and dry in warm ones) the valley of Carcare while they painted: so Anton Giulio Barrili remembered them in the novel "Amori alla macchia" (1884) - they produced numerous works during various times of the year.
This is the case of Rayper's canvas, "The Painters", displayed here. Painted between 1863 and 1867, it is a bright and vibrant "snapshot" with which the young artist documented, under the flap of the green and yellow umbrella, the work en plein air of the painter friends Issel - to which the Gallery of Modern Art of Genoa dedicates an entire room with liberty furnishings and with works loaned in 2016 by Anna Adele De Angelis - and Casella on the dry banks of a sunny summer Bormida: a vision that combines the "macchia", its formal synthesis , with the search for homogeneous tonal qualities capable of blending, but without imposing continuity, earth and sky, figures and vegetation.