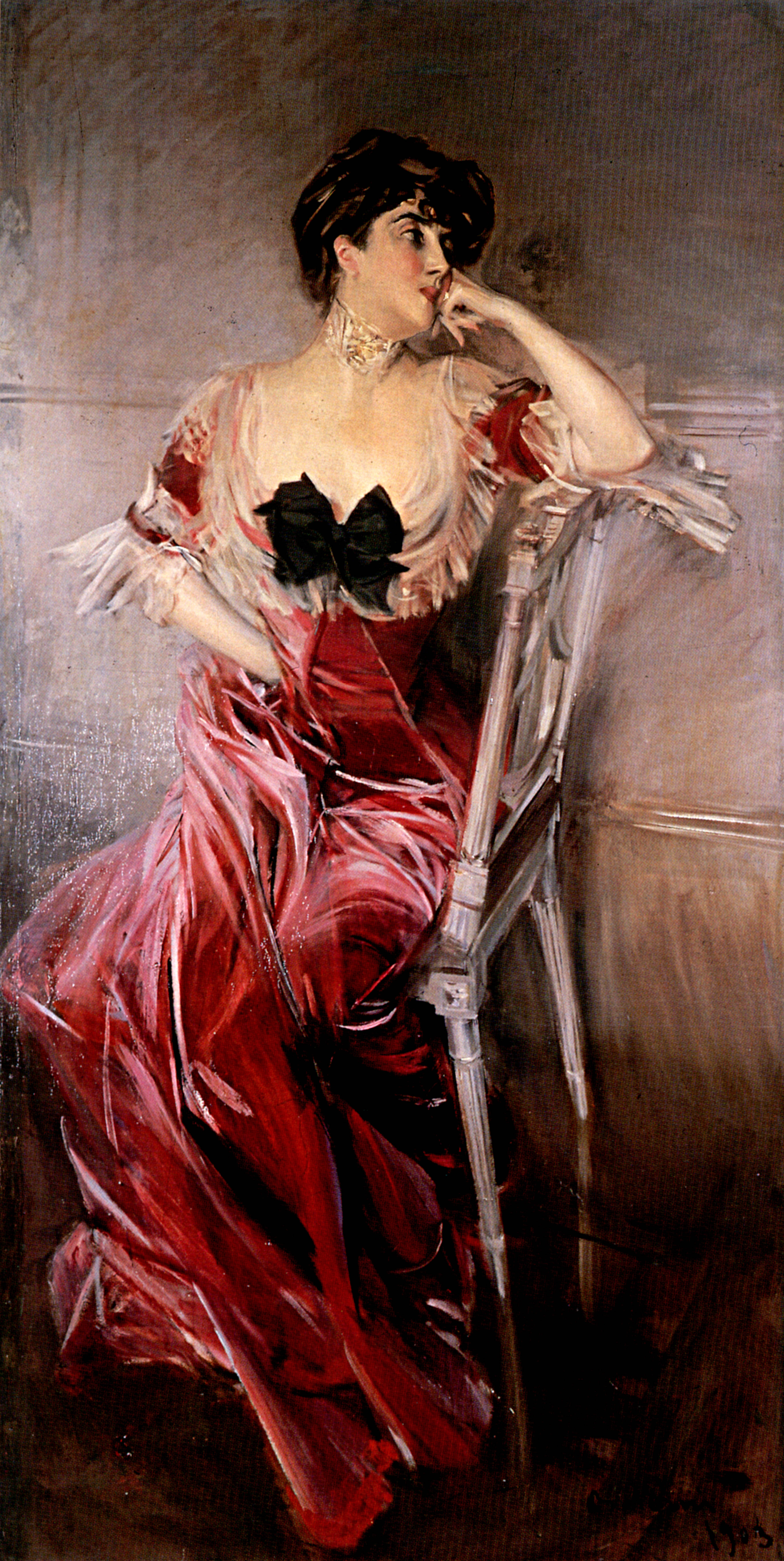 Click here to view image
Giovanni Boldini (Ferrara, 1842 - Parigi, 1931)
Technique and Dimensions:
Oil on canvas, 205 x 101 cm
Ground floor, Belle Epoque and Scapigliatura Room (inv. no. GAM 1524)
Legacy of Luigi Frugone, 1953
The full length portrait of an elegant young woman shown seated (possibly an actress from the Comedie Française, Marie Jeanne Bellon, known as Miss Bell) is characterised by the vivacious but relaxed appearance of the image's protagonist. The "vertical" format of the painting balances the composition while the swirling movement of the folds of the dress, achieved with quick confident brush strokes, gives the portrait lightness and dynamism.
The contrast between the woman's raven hair, her dress's black bow and, the pearly colour of her décolleté and the iridescent red of her dress gives the painting, even today, a strong emotional impact, so much so that it spontaneously became the "poster" image of the Frugone Collection.
The work, signed and dated 1903, was bought by Luigi Frugone in 1926 from the art dealer Ferruccio Stefani. In a letter, the collector makes no secret of his enthusiasm for it, describing it as "unsurpassable". The painting was originally intended for the Marquise Matilde Giustiniani Pallavicini Durazzo of Genoa, who wanted to start a collection of modern art, but Stefani, in view of the friendly and privileged relationship he had established with the industrialist chose to offer it to Luigi, selling it to him for 130,000 lire. In 1932, at the XVIII Venice Biennale, in the retrospective dedicated to Giovanni Boldini, the work was exhibited as belonging to Luigi Frugone.