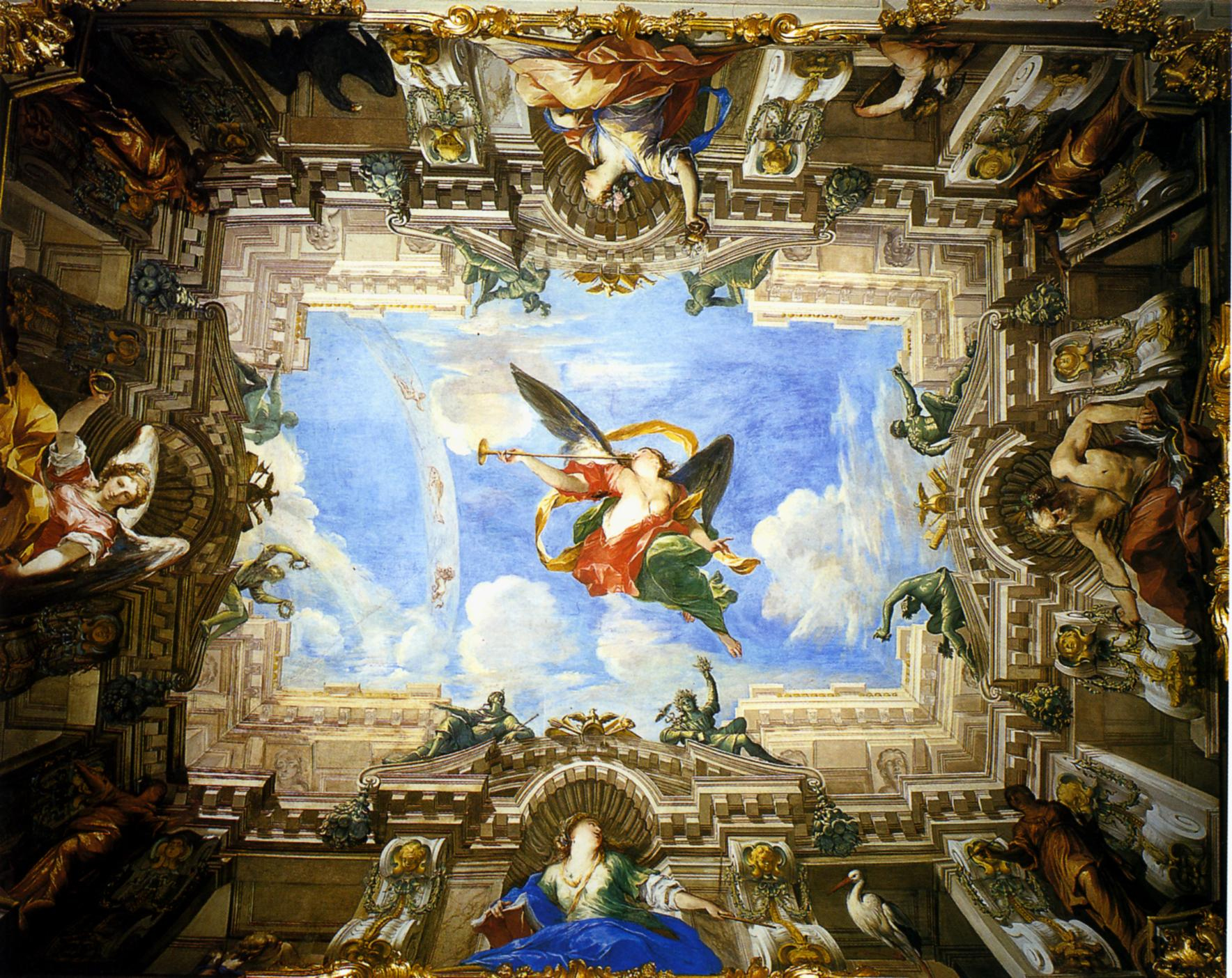 Click here to view image
Valerio Castello (Genova, 1624-1659)
Technique and Dimensions:
Duke of Genoa Antechamber
The Antechamber of the Duke of Genoa, a veritable "camera picta", dates to the original commission by the Balbi, the first owners of the residence who, with foresight and refined taste, selected Valerio Castello (1624-1659) to undertake the work, Castello was a key artist of the Genoese Baroque period and was active in this environment between 1653 and 1654.
For what was then the home of the Balbi he created this graceful, sinuous winged figure, intent on playing an elongated trumpet, silhouetted against a lapis lazuli blue sky: it is Fame declaring the success and glories of the family. A fame achieved through the application of the Virtues, as is underlined by the allegories depicted within the niches on the cornice where the figures of Intelligence, Vigilance, Immortality and Wisdom are shown.
The perspective construction featuring "false" squares is the work of Giovanni Maria Mariani an artist from Pesaro, who trained in Bologna and was very active in Rome (where he died in 1679).
On the walls Valerio creates an architecture effect which seems to amplify the space towards the outside: the trompe l'oeil effect can still be seen above the doors with medallions supported by putti, while in the centre of the walls decorative panels give the impression of gilded stucco.
Even the tempera on the border is by the hand of Castello, simulating monochrome reliefs on a red background dedicated to the personifications of Painting, Sculpture, Astronomy and Music while in the green panels are the Four Elements with Tritons, Centaurs and Lapiths.