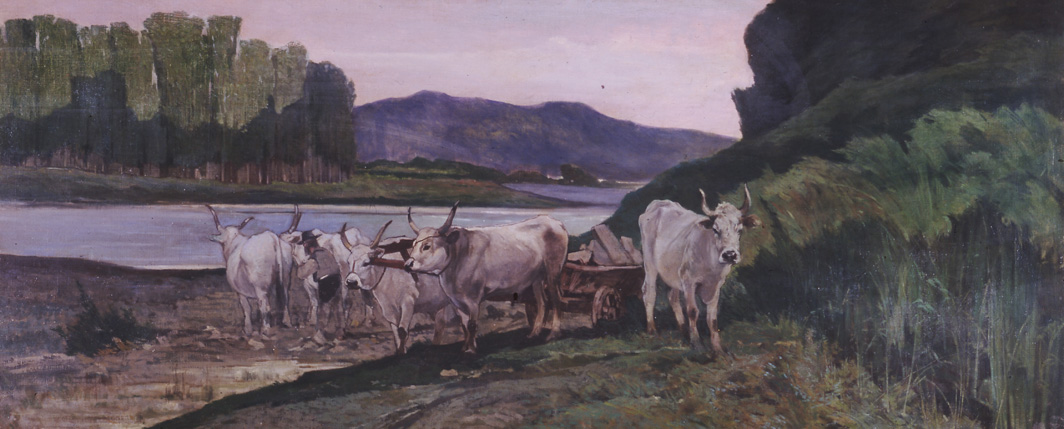 Click here to view image
Giovanni Fattori (Livorno, 1825 - Firenze, 1908)
Technique and Dimensions:
Oil on canvas, 105 x 44 cm
First floor, Landscape Room (inv. no. GPB 766)
Legacy of Lazzaro G.B. Frugone, 1935
Returned from the years 1870 - 75 by the scholar Andrea Baboni in the general catalogue of the Frugone Collections (2004), this authentic masterpiece by Giovanni Fattori, a leading figure in the Macchiaioli group, enters the collection of the Genoese entrepreneur Gio. Batta Lazzaro Frugone (Genoa 1860 - 1935) after 1929, when the work was still documented in the Vallecchi Collection, after being, until 1928, property of Mario Galli, a well-known collector of works with a rural theme; in 1921 it was exhibited at the First Roman Biennale and registered as belonging to the cavalier Attilio Materazzi.

Fattori dedicates to the Tuscan river landscape, and in particular to a glimpse of the Arno and its banks, perhaps in the area between Bellariva and the Indian, a vision with a solemn and emotional stillness that finds an echo in the canvas The Arno in Bellariva, today in a private Livornese collection. The colour of both, from the numerous shades of greens, greys and violets, to whites mixed with a vibrant light, arrange themselves like mosaic tiles, often well delimited by the outline mark superimposed on the colour, to compose the views. It enriches the painting of the Frugone Collection and reaffirms its silent spatial immanence, the white bezel of the group of oxen and the cart with the marble blocks in the centre of the canvas, enhanced and stemmed by the foamy backdrop of greenery on the right and the horizontal coordinates of the banks. Another distinctive element, in the painting of the Genoese museum, is the presence of a peasant figure conceived by the Tuscan painter as a set of chromatic shapes overlaid on the swollen belly of an ox, to signify the hierarchical zeroing in the agrarian iconography in favour of the essence of a nature returned in the perfect synthesis of light and colour.