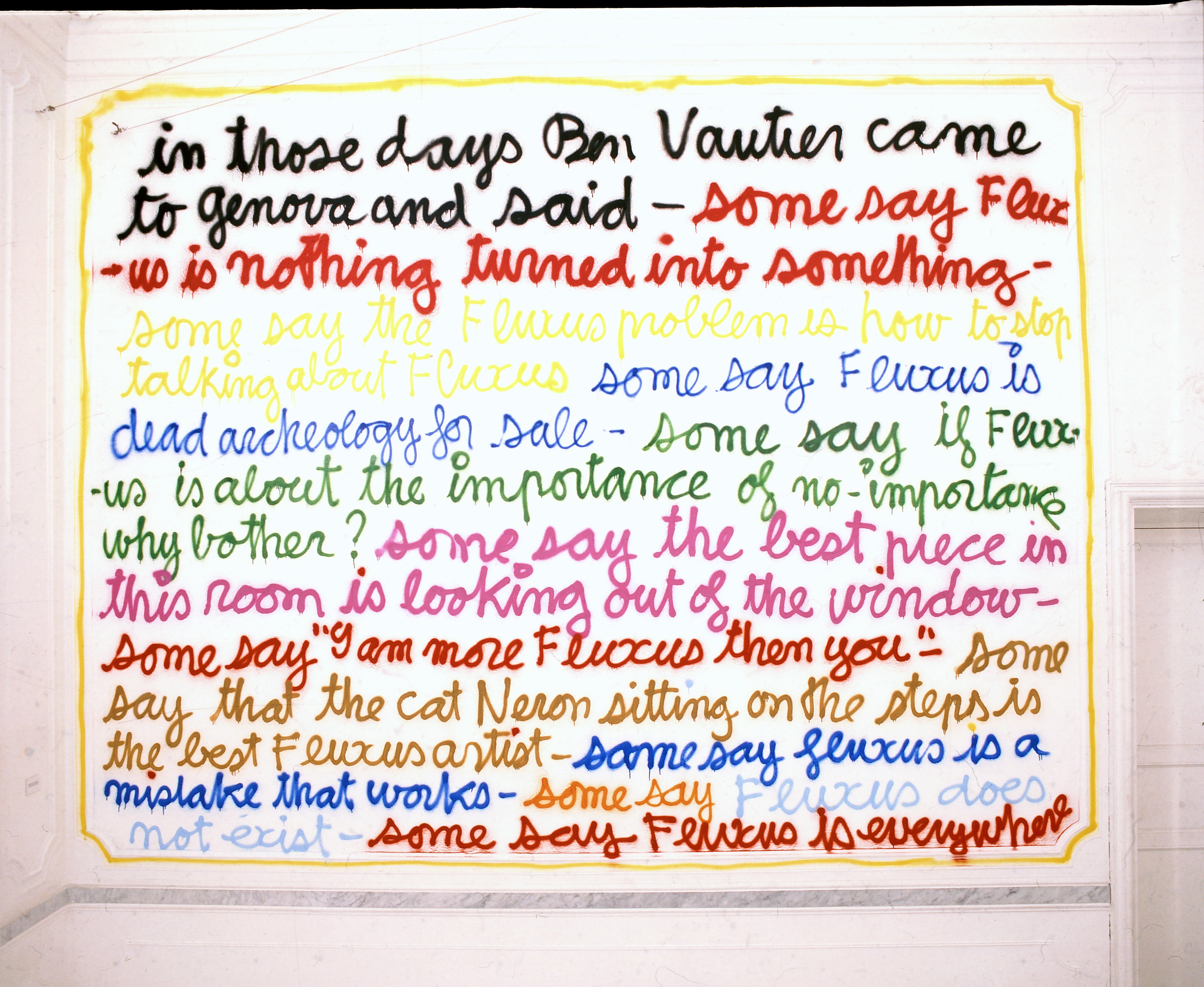 Click here to view image
Ben Vautier (Napoli, 1935)
Technique and Dimensions:
First floor (inv. no. 3359)
Site-specific intervention
Ben Vautier, more widely known only as Ben, has been active as an artist since the end of the '50s and his work takes mostly a performative approach. From the very beginning joined Fluxus movement, arising out of the reflections of George Maciunas and starting with their first Festival held in Wiesbaden in 1962.
The core concept of the movement, which involved such diverse international artists as Joseph Beuys, Daniel Spoerri, Nam June Paik and Ben Patterson, was to bring art into life until the two spheres fully overlapped.
In 1963 Ben invited Maciunas to organise a Fluxus festival in Nice, the city where he lives and works, and since that date he has continued to present countless happenings, actions, performances and events with his own unique sense of irony and the absurd. Beginning with Marcel Duchamp's Readymades, the artist appropriated the world around him, including the work of other artists, of his own body and that of others, through his signature and his distinctive handwriting which invades and covers everything, dissolving the boundary between art and life, with the Fluxus approach for which he is known.
The work in the collections was created on the wall of the museum in 2002 for the exhibition "The Fluxus Constellation", a celebration in Genoa of the movement's 40th anniversary. In the room set aside for him, the artist installed many of his works, reserving to himself to work directly on one wall, where, with neon spray paint, he summed up his Fluxus poetic with his trademark wit.