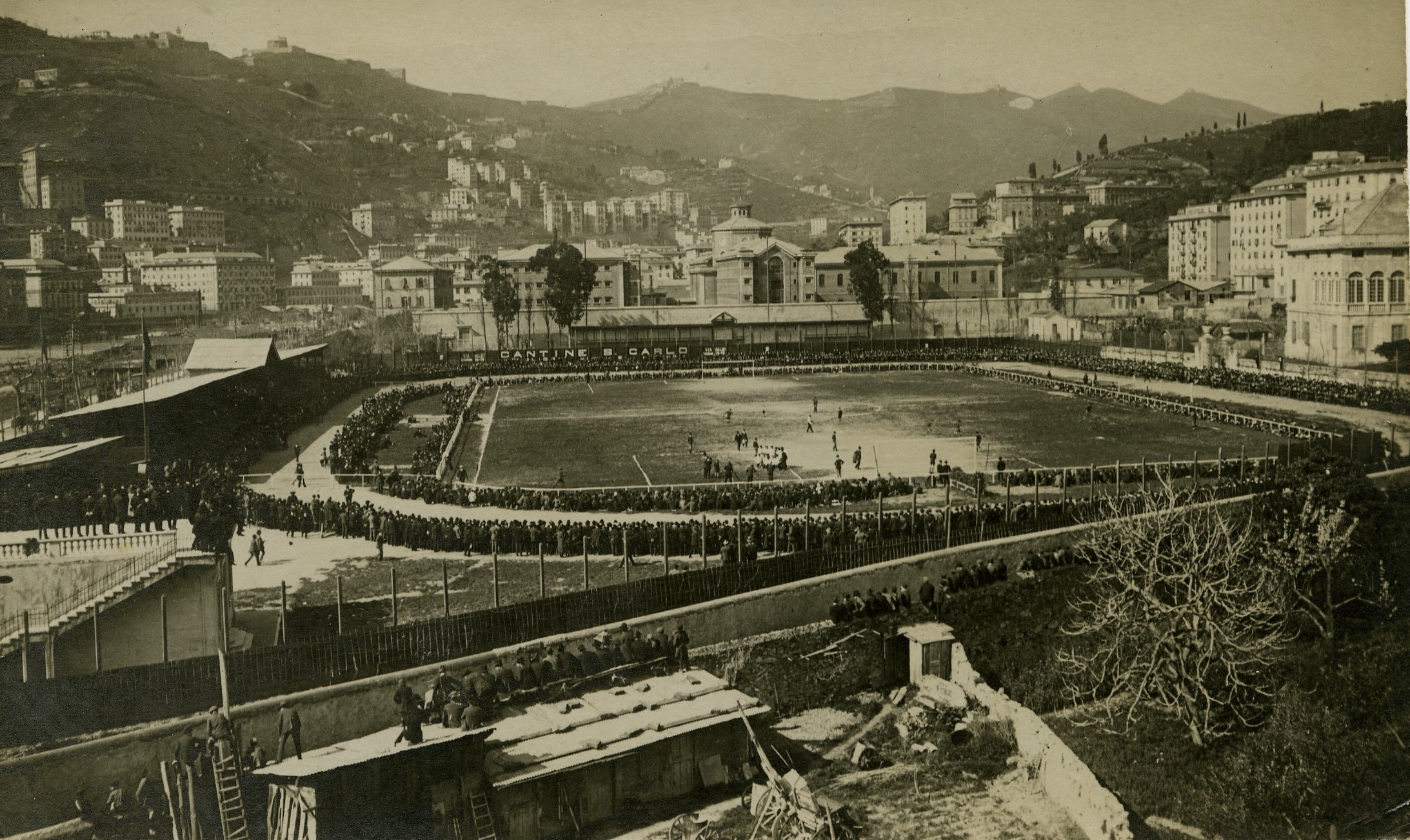 Click here to view image
The first football field in Marassi, Genoa, was built in 1910 and inaugurated in January 1911 in a land closed to Musso Piantelli Mansion. The previous field had been used for equitation for many years. In the northern part of it there was, since 1909, the "Andrea Doria" field. Both fields were organized along the east-west direction. Very soon the Genoa field was put along the north-south direction, as it is nowadays, and horse racing track was constructed around it: the inauguration was in May 1911.

In 1926 the Andrea Doria renounced the use of the field. The Genoa field was extended between 1929 and 1933, with the construction of new stand seats and north and south terraces. In January 1933 it was named after Luigi Ferraris. The stadium still included the running track around the field, at the use of which the "Società Ippica Genovese" (Genoese Horse Club) renounced in the end of the forties. During the 1945/1946 championship, the "Ferraris" stadium hosted three teams: Genoa, Andrea Doria and Sampierdarenese. Since 1946 the stadium was used by Genoa and Sampdoria. In 1951 a wide stand section was built realizing thus a "close" stadium.

In 1987, for the Football World Cup, "Italia 90", the stadium was renovated to reach the actual state. It was inaugurated in 1989.
Different plans were proposed for the area surrounding the stadium: see, for example, the diorama shown here, which presents several plans only partially realized (in addition to a roof to cover the Bisagno river, plans also included the demolition of the prison building and its substitution with sport and commercial buildings).
In May 2019, the stadium underwent a total restyling of the Tribunes which led not only to an improvement in services, but also to the strengthening of its charm, confirming the "Luigi Ferraris" among the most beautiful stadiums in Italy.