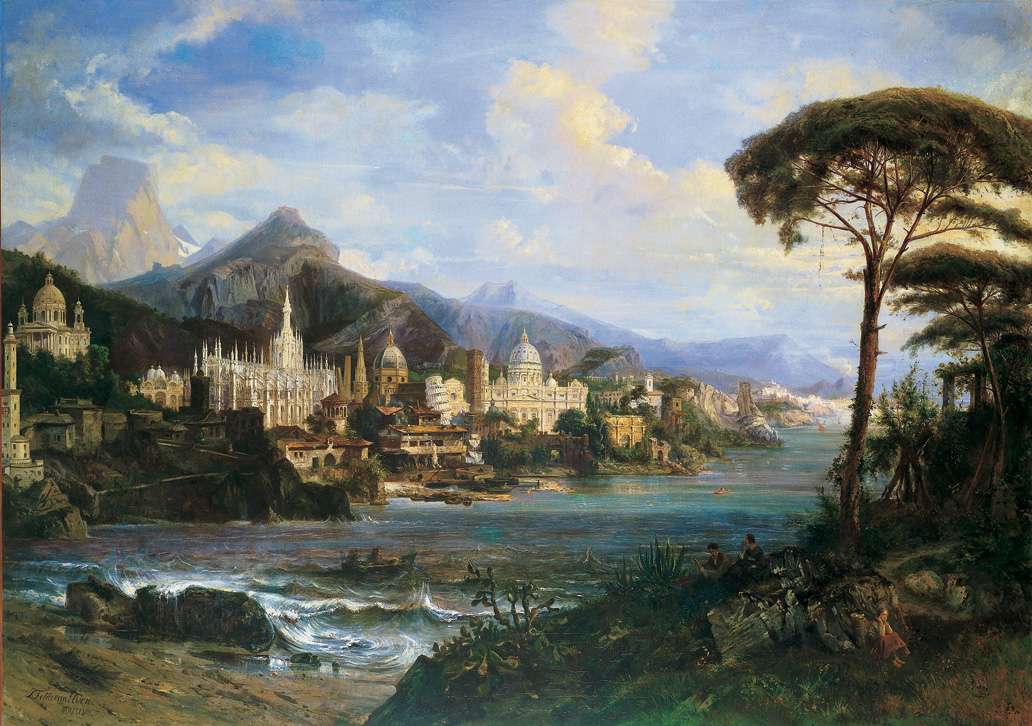 Click here to view image
Petrus Henricus Theodor Tetar van Elven (Amsterdam, 1831 - Milano, 1908)
Technique and Dimensions:
Ground floor (inv. no. GAM 471)
Purchased by the Municipality of Genoa, 1898
The large painting by one of the artists closest to the reigning dynasty of the Savoy, the Dutch Petrus Henricus Theodor Tetar van Elven, belonged to the Mazzinian aristocrat Filippo Ala Ponzone.
To avoid problems of censorship it was conceived as a grandiose "collage" of the monuments associated with the most important Italian cities; but in reality a sort of pre-manifesto Risorgimento of the Unification of Italy. The figuration starts with a partial view of the Lighthouse of Genoa, on the left side of the canvas, to reach, through the most easily recognized and characteristic monuments from the North to the South of Italy - from the cathedral of Milan, to San Marco in Venice, from the tower of Pisa to San Pietro in the Vatican - all gathered under the Savoy banner, reaching as far as a smoking Vesuvius and the bay of Naples. Sicily is missing since Garibaldi would, with his thousand volunteers, set sail to annex it to the Kingdom of Italy two years later, on May 5, 1860.