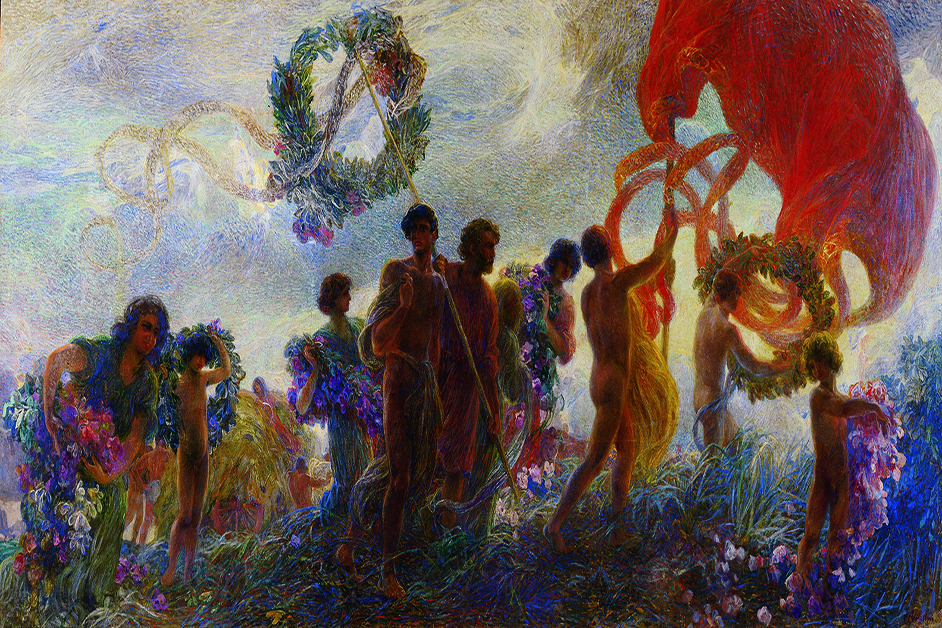 Click here to view image
Plinio Nomellini (Livorno, 1866 - Firenze, 1943)
Technique and Dimensions:
Oil and tempera on canvas, 300 x 600 cm
First floor (inv. no. GAM 1611)
Palazzo Spinola, Genoa Sampierdarena, 1965
Nuova Gente or Gente Nova together with the work "Il Cantiere" was commissioned to Plinio Nomellini by the Municipality of Sampierdarena in 1907 for its new seat in the Palazzo del Monastero, finished in 1908 and presented in 1909 at the Venice Biennale. These works are true posters of the industrial and shipbuilding vocation of the Genoese west.
Plinio Nomellini trained in the Macchiaiola school and pupil of Giovanni Fattori arrived in Genoa in 1890. His presence in the local artistic context until 1902 was decisive for the affirmation of divisionism in Genoa and the maturing of Ligurian painting, still attached to the last remnants of post-impressionism, thanks to his contacts with Milanese artistic circles by exhibiting in 1891, at the first Triennale di Brera exhibition, where Gaetano Previati presented the famous "Maternity", manifesto of "liberty" divisionism.
A friend of many Ligurian artists and writers, but in particular of Edoardo De Albertis, Luigi De Servi and Galileo Chini, with whom he worked on the decoration of the villa of the musician Giacomo Puccini in Torre del Lago, Nomellini left to Genoa precious testimonies of his intense activity.