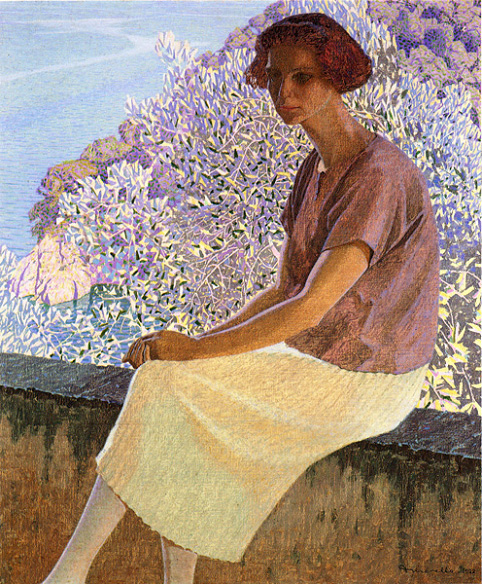 Click here to view image
Domenico Guerello (Portofino, 1891-1931)
Technique and Dimensions:
Oil on canvas, 108 x 90.6 cm
First floor (inv. no. GAM 374)
Purchased at the Exhibition of the Promotional Society of Fine Arts in Genoa, 1923
Silver Calm is a portrait of Alma Fidora, wife of the critic Ugo Nebbi and one of the founding artists of the 1914 futurist group "New Trends", who was subsequently active in the field of fashion, designing fans, fabrics and dresses. The figure and the surrounding landscape are immersed in a magical and "suspended" atmosphere, which is clearly inspired by the work of Felice Casorati, while in the blue, gray, green tones, arranged with dashes and small vibrant pieces, Guerello refers to the non-naturalistic works of Rubaldo Merello (after his Divisionist period).