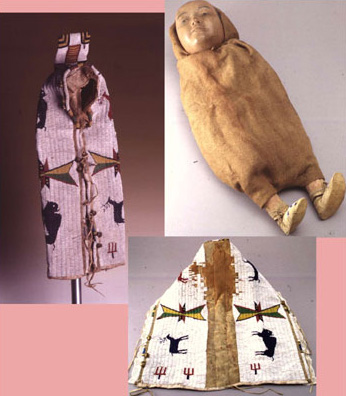 Click here to view image
Technique and Dimensions:
Cradle: tanned cervid leather, glass counties (opaque stitch), fabric, dry grass; Doll: decorticated, polished, carved and painted wood, jute, tanned leather, glass counties (point "lazy"), straw, iron
Donated by the US Catholic Mission Association, 1893
This suspended vertical cradle was either worn on the mother's back, hung from one of the teepee's poles, or hung from the branch of the tree. It is composed by a wooden frame and a leather cover. The inside was padded with dry moss, which was absorbent and made the cradle comfortable. The leather cover is decorated with symbolic designs, including deer and moose figures to bid the infant a future as a great hunter, a morning star, and a spiders web as a symbol of protection.
The child figurine, crafted in wood and modelled off a caucasian child, was likely used for display purposes by the US Catholic Mission Association.