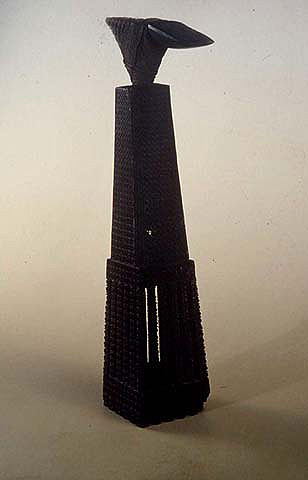 Click here to view image
Mangaïa, Cook Islands, second half of the 19th century
Technique and Dimensions:
Thematic path, first floor (inv. no. CDA 1096)
Legacy of Captain E.A. D'Albertis, 1932
Unique to the island of Mangaia are non-functional axes, whose surface is completely covered with engravings, geometric and naturalistic motifs. They rest on a quadrangular section base and represent Tane mata ariki (Tane with a royal face), god of the artisans, who according to tradition taught the inhabitants of Mangaïa how to make axes.
Before contact with Europeans, axes of this type had a cylindrical handle and were used as a symbol of rank. Fallen into disuse, the basalt blades were recovered and in the nineteenth century the pedestal shape was introduced to meet commercial needs.
The 19th century constituted a sort of golden age for sculpture for the Cook Islands. Inspired by traditional shapes and motifs and aided by metal tools, artisans produced large quantities of sculpted and engraved objects to meet the needs of whaling crews