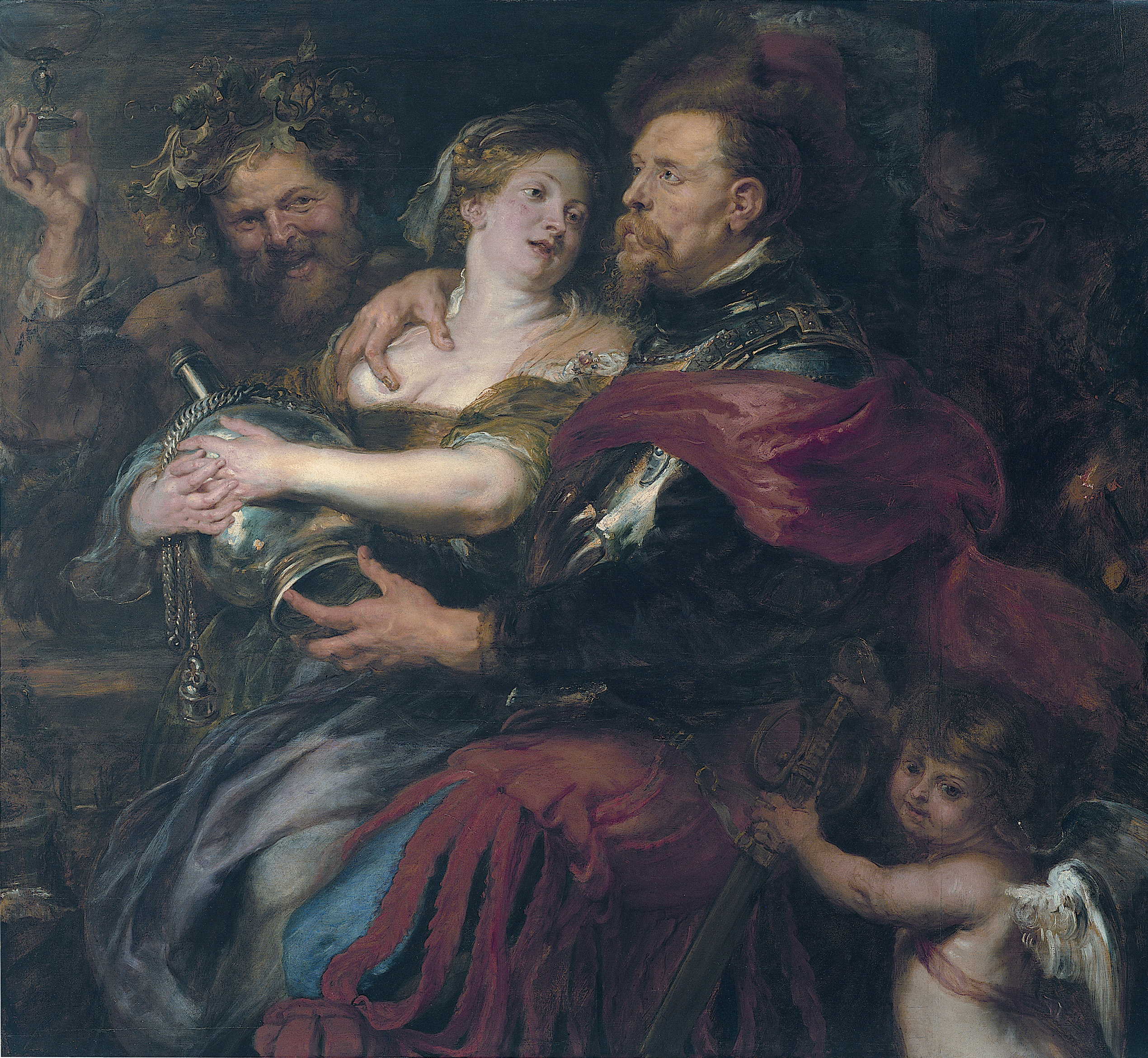 Click here to view image
Peter Paul Rubens (Siegen, 1577 - Anversa, 1640)
Technique and Dimensions:
Oil on panel, 133 x 142 cm
Palazzo Bianco, third floor, piano nobile (inv. no. PB 160)
Maria Brignole - Sale De Ferrari Duchess of Galliera Collection, legacy, 1889
The painting which has historically been interpreted as an allegory, depicting Venus (that is Love) "disarming" Mars, the god of war, Mars surrenders to the ample charms of Venus and the intoxication of the wine (contained in the silver flask and cup), offered by Bacchus, the god of "joie de vivre". Venus is dressed in what was then "contemporary" attire and her face and turned physiognomy reflect the canons of beauty typical of his work rather than, as the inventories of the Brignole - Sale house would suggest, those of the painter's second wife. Mars, on the other hand, wears the typical "lansquenet" clothing (typical of foreign hired professional soldiers) and is not, as again the aforementioned inventories indicate, a self-portrait of the artist but rather reproduces the face, identical in expression, of a member of the Van den Wijngaerd family, whom Rubens portrayed elsewhere at least twice. The Fury that breaks into the scene, on the right, from the shadows of a landscape that, on the left, appears desolate, burnt and overrun by war, has been created with vibrant minimal touches of brown and black directly onto the reddish-brown foundation layer and contrasts with the sensuous chromatic intensity and the intact brightness of the paints used for the figures in the foreground, in the style of Titian.
Recently it has been suggested that the image is a more general allegory of intemperance rather than as a specific depiction of the gods Venus and Mars in their symbolic roles.
Masterpiece of the late period of the Flemish artist, datable between 1632 and 1635, the panel is mentioned for the first time in Genoa in around 1735, when it is recorded as belonging to Gio. Francesco II Brignole - Sale and displayed in Palazzo Rosso; the painting would have arrived in the city from Madrid about thirty years before, probably having been part of the collection of Francesco de Mari, however the exact history of the work in the thirty years prior to 1735 is unclear.