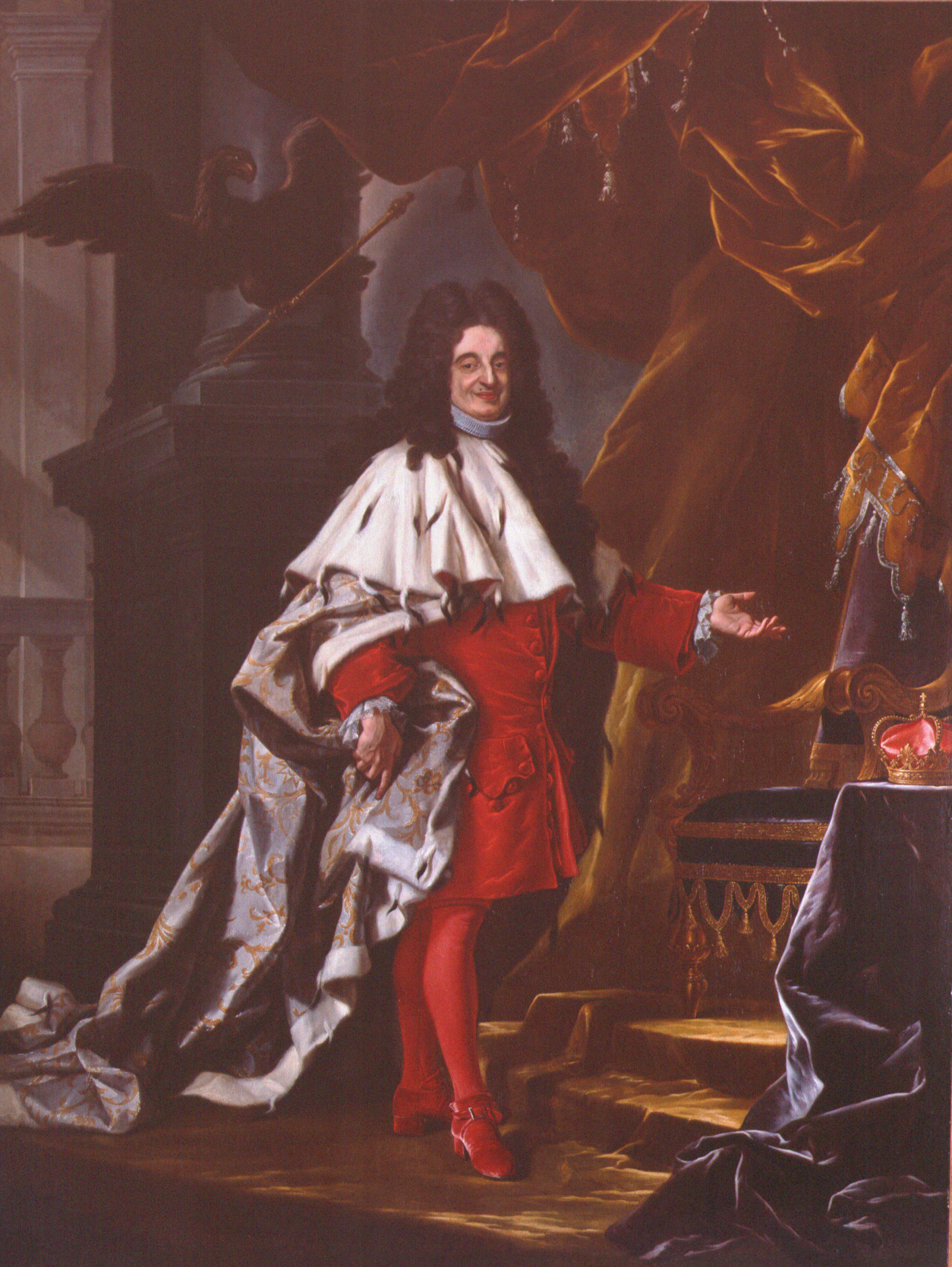 Click here to view image
Gio. Maria Delle Piane, detto il Mulinaretto (Genova, 1660 - Ponticelli d'Ongina, Piacenza, 1745)
Technique and Dimensions:
Oil on canvas, cm. 296 x 224 signed and dated on the base of the column: "Ser.Mo Franc.us M.A.Imperialis/Genue Dux Ac Corsice Rex/Jo M.A. Molinarettus Fecit/1714"
Genova, Musei di Strada Nuova - Palazzo Bianco, inv. PB 444
Since 1947 in the collections for donation of Giuseppina Imperiale di Sant'Angelo
The figure so sumptuously portrayed in this painting is that of the noble Francesco Maria Imperiale, elected doge of the Republic of Genoa in September 1711 and here portrayed in 1713, in the last phase of his biennial office.
The painter Gio. Maria Delle Piane known as Mulinaretto was inspired, for the occasion, by the portrait of Louis XIV of France painted by Hyacinthe Rigaud in 1701, tracing the model in the details of the setting, in the aulic atmosphere, in the richness of the dress and in the kingship of the mantle: The Imperial dress is dominated by the crimson red of the marsina, the stockings and the shoes, which contrasts with the white ermine mozzetta and with the cloak draped in gold and silver damask. Compared to the authoritative model, whose knowledge had spread through engravings, more affable and colloquial appears the attitude of the Genoese, who with a gesture indicates the signs of his power, throne and crown, while an eagle - which clearly refers to the coat of arms of the family - carries in flight the sceptre; on the left, the base of the column bears the date and signature of the painter and identifies the effigy in the "Genue dux ac Corsice rex", emphasizing the formality of the portrait.
Certainly Mulinaretto looks to Rigaud for the intense psychological characterization of the character represented and for the technical virtuosity in the realistic translation of the fabrics and furnishings: note the tactile preciousness of the draped golden curtain over the canopy, dark velvet cloth, almost iridescent due to the passing light, which covers the table on the right, and finally the trimming with golden tassels that adorns the throne. A combination of symbolic elements that express, as proven metaphors of power, the intent of personal and dynastic celebration of the Imperial, at the time when he had reached the highest office of the Republic and the highest prestige for himself and for his family.