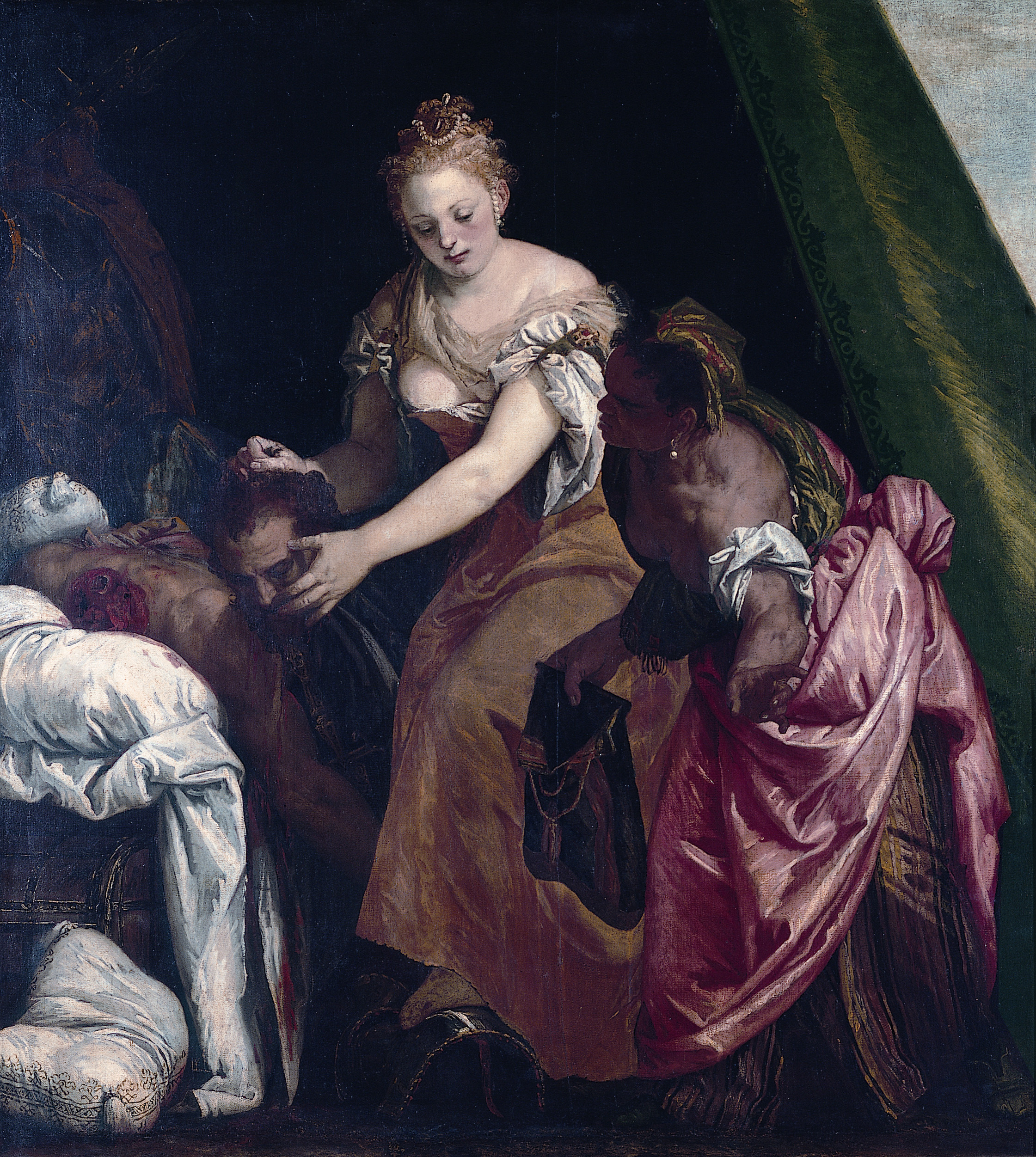 Click here to view image
Paolo Caliari, detto il Veronese (Verona, 1528 - Venezia, 1588)
Technique and Dimensions:
Oil on canvas, cm. 195 x 176
Genova, Musei di Strada Nuova - Palazzo Rosso, inv. PR 95
From 1874 in the collections by donation of Maria Brignole - Sale De Ferrari, Duchess of Galliera
The painting depicts the salient episode of the stora of the Jewish heroine Judith - to whom is dedicated an entire book of the Christian Bible entitled to her - set during the reign of the Babylonian king Nebuchadnezzar, who entrusts the western campaign against the people of Israel to the Assyrian general Holofernes. During the war, the city of Bethulia was under siege for thirty-six days and its population was reduced to starvation and thirst. Here the plan of the rich and beautiful widow Giuditta enters the scene, who, with the help of a ruse, goes into the enemy camp, pretends to give in to the seductions of Holofernes and, during a banquet, makes him drunk and kills him, hitting him twice in the neck with his sword.The canvas by Veronese, dating to about 1580, depicts with extreme realism the moment when Judith delivers the macabre remains to her handmaid Abra, ready to receive them in the saddlebag of food. The general's head, subsequently exposed by the walls of the besieged city, induces the Assyrians to retreat.
The work, one of the most famous in the collection of Palazzo Rosso, originally belonged to Count Cuccina of Venice, an important client of Veronese; it then passed to the Franco-Flemish painter and merchant Nicolas Régnier who, among the many collectors interested in buying it, sold it to Giuseppe Maria Durazzo in 1670, from which it was inherited by the Brignole - Sale.The artist uses the theme of Judith, however addressed at least on another occasion in the eighties of the sixteenth century, to create a painting based on wise chromatic and uministic contrasts given by the contrast of the dark incarnations of the decapitated body - made with a particular anatomical realism - and that of the servant in respect, respective, the white sheets and the ivory complexion of Judith, illuminated with great effect by a light that peeps from the right.