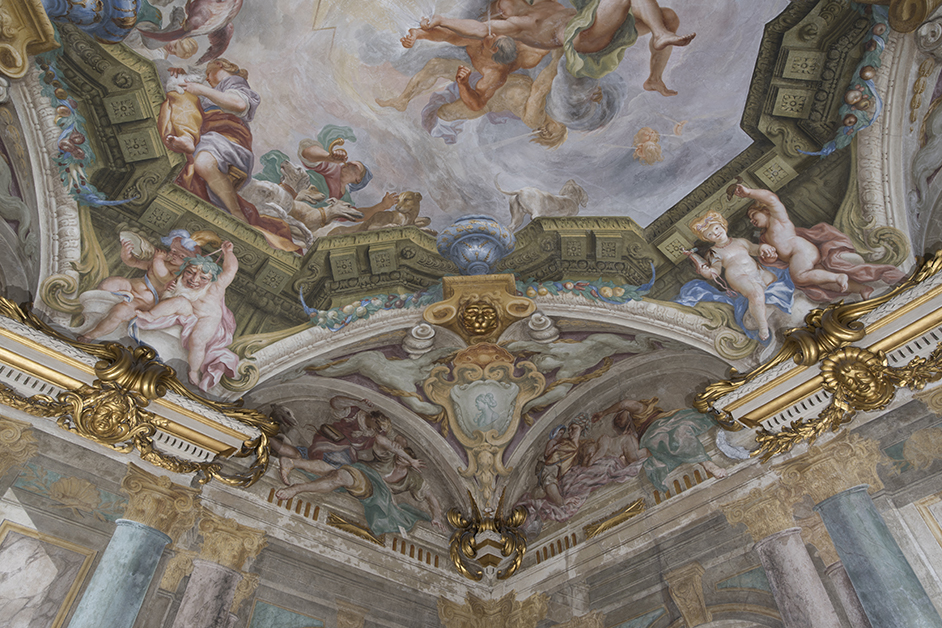 Click here to view image
Domenico Piola (Genova, 1627-1703)
Domenico Piola painted the vaults of the last two east rooms of the second noble floor of Palazzo Rosso between 1687 and 1688, as evidenced by the balances of payments
concerning him. It is the period after his return from the flight-trip undertaken in 1684, following the French bombardment of the city, which took him to various places in northern Italy and especially to Parma, where he had the opportunity to compare and update on the correct solutions his way of conceiving the painted space in relation to the architectural. This experience, and, together, the contact with Gregorio De Ferrari, his son-in-law and pupil, gave his language a looser lightness, especially in the practice of a lighter and less full-bodied use of color, which combines the taste for open space and for the composition in a rotating sense.
These elements can be seen in the design of the rooms with the allegories of Autumn and Winter, where Domenico made use of the collaboration of the plasterer Giacomo Muttone and the Bolognese quadraturist Stefano Monchi.
In the Winter Room, Piola implements absolute freedom in the layout of the space. The plastic intertwining of the bodies of the winter winds, contrasts Winter, exceptionally young and dressed in light, which warms at the brazier, with behind March or Favonio, while allusions to carnival and hunting, enriched with animals and exotic characters, move the edges of the vault, barely contained by a mighty painted balustrade. Scenes of banquets, musicians, idleness, playful fights, or games of children, make the reading of this fresco, from the point of view of both thematic and perception of the painted space, an effect accentuated by the architectural perspectives trompe-l'oeil made by Nicolò Codazzi on the walls.