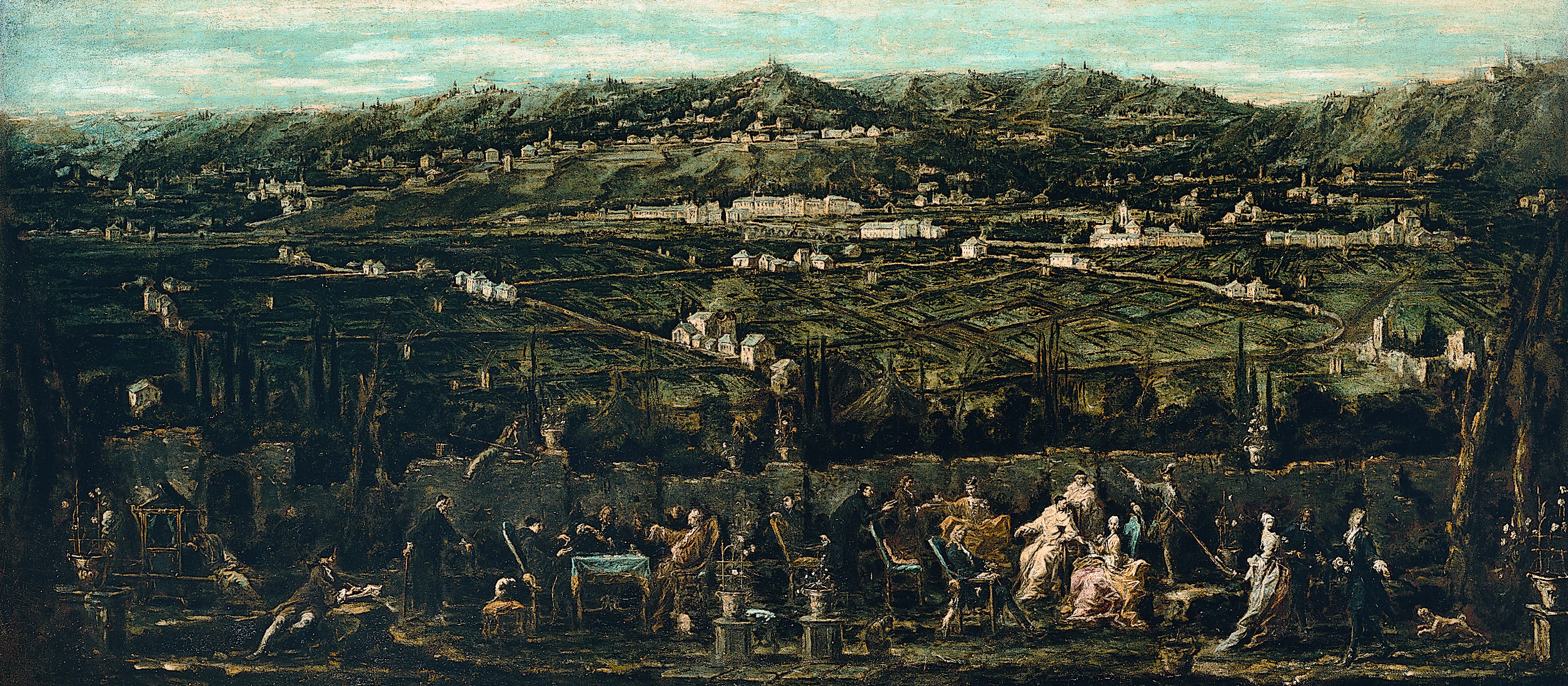 Click here to view image
Alessandro Magnasco (Genova, 1667-1749)
Technique and Dimensions:
Oil on canvas, cm. 86,3 x 198
Genova, Musei di Strada Nuova - Palazzo Bianco, inv. PB 81
Since 1898 in the collections for purchase from Rosa Vacheri
In the garden of Villa Saluzzo called the Paradise, a well-known suburban residence of Genoa on the slopes of the hill of Albaro, a group of nobles and some clergymen lovingly spend the hours: A scalcinato wall separates them from the vast landscape that you can enjoy from that terrace of the park.
Ladies, knights, cicisbei and prelates whose light and dark hues constitute pauses of light, marking the sequence of vanity of the whole, are observed by the painter who, apart, at the service of the lords, but not participating in their world, is intent on portraying the scene, pinning down every detail.Magnasco's agile, darting and at the same time precise touch, with irony and critical spirit, shows the now inexorable disintegration of the society of ancien régime, which appears unaware of how much its "golden paradise" is undermined from the outside, If a boy with crumpled clothes manages, undisturbed, to climb over the ruined wall.
Three quarters of the composition are occupied by the panorama overlooking the villa, the true protagonist, at least quantitatively, of the painting; Magnasco gives a meticulous recording, revealing an adherence to the truth very close to the spirit of the Enlightenment, So the view, which the unusual format of the painting recalls, is a tool of investigation and rationalization of space, not at all in contrast with the conscious dissent of the author towards the decorative and celebratory purposes in vogue at the time.
The critics, now in agreement, place this canvas around 1740, when, back in Genoa, his native city, Magnasco proposed themes and ways that had made him famous in Florence and Milan for the more conformist and less updated Genoese commission.