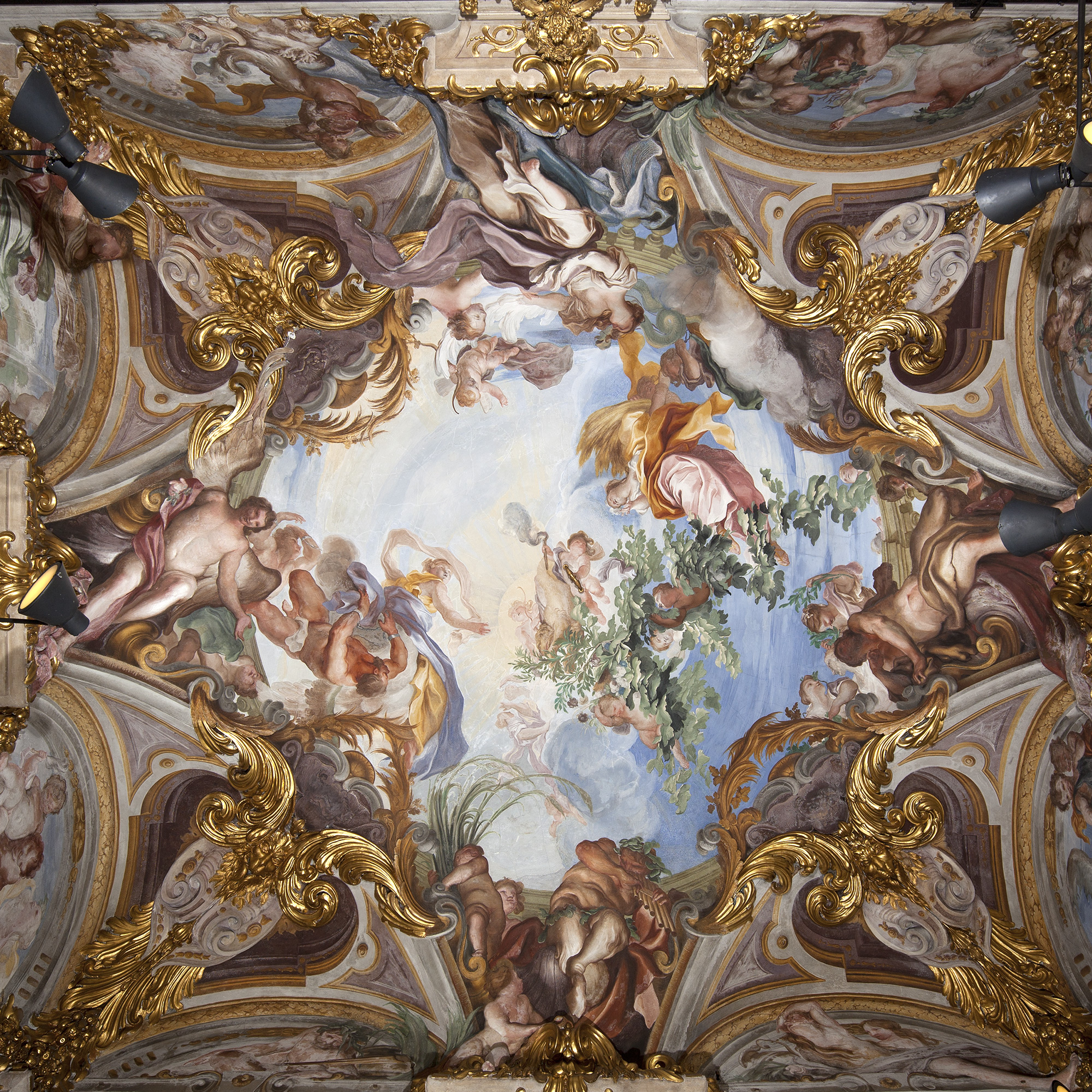 Click here to view image
Gregorio De Ferrari (Genova, 1647 - 1726)
Technique and Dimensions:
Palazzo Rosso, second noble floor

From 1686 to 1687 Gregorio De Ferrari was engaged, with his father-in-law Domenico Piola, in the fresco decoration of the second noble floor of Palazzo Rosso, for the commission of Gio. Francesco I Brignole - Sale (1643 - 1694): starting from the hall, passing through the four rooms to the east until you get to the south loggia facing the sea, a unified and coherent iconographic project has as its central theme the symbolic identity between Apollo the god of the Sun, who with his chariot marks the rhythm of the days, and the client Brignole - Sale, whose heraldic coat of arms, a rampant Lion, coincides significantly with the zodiacal sign of summer, the season of the sun.
The decoration of the salon, created by Gregorio De Ferrari and fulcrum of this complex figurative system, revolved around the mythical figure of Phaeton, son of Apollo, and brought to the corners the coats of arms of the clients, the Brignole and his wife Maria Durrës. Unfortunately, this decoration was destroyed after the bombing of the Second World War. Following the salons dedicated to the allegories of the Four Seasons, iconographically connected to the general symbolic plan as emblems of the passage of time. In the first two rooms, still in the hands of De Ferrari, Spring and Summer triumph at the center of two times framed by stuccoes by Giacomo Maria Muttone.
In the Summer Room, Ceres, goddess of the harvest, in flight beside a putto holding a great golden bundle of ears, prevails over the winter winds driven out by the Aura, while the center of the composition is still dominated by the figure of Apollo-Sun accompanied by a lion, this time alluding also - as already in the salon - to the sign of the zodiac and therefore precisely to the summer, in a pleasant game of references between astrology and dynastic celebration.