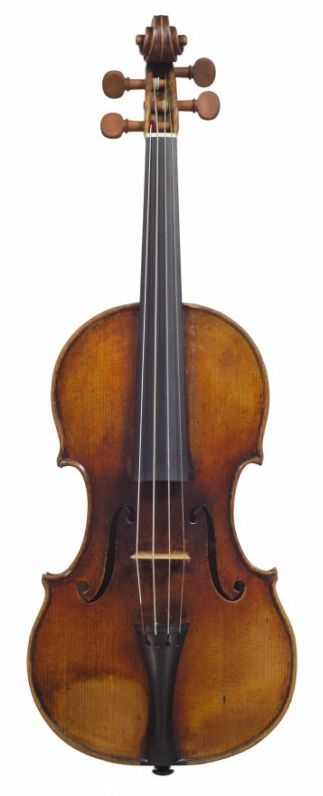 Click here to view image
Bartolomeo Giuseppe Guarnieri, called del Gesù (Cremona, 1698 - 1744)
Technique and Dimensions:
Palazzo Tursi, Paganini Room (inv. no. PB 820)
Donated to the city by testament of Niccolò Paganini
The famous violin - called "Il Cannone" - was the favourite instrument of the great violinist Nicolò Paganini (Genoa 1782 - Nice 1840). It was Paganini himself who called the exceptional instrument "my violin cannon", for the fullness of its sound, capable of transmitting extreme emotional tension.
The violin was built in 1742 by the Cremonese luthier Bartolomeo Guarneri (1698 - 1744), known as "del Gesù" for his habit of adding the symbol of the cross to his signature. Paganini received it as a gift from an admirer probably in 1802 and from that moment it became almost a natural extension of the musician. According to the custom of the time, he played it without using the chin rest, resting his chin directly on the end of the soundboard which still retains signs of intense use. It was Paganini himself who left the instrument in his will to his hometown so that it would be "perpetually preserved" after his death. Paganini in fact maintained a deep bond with Genoa despite his tormented existence and the fact that his great talent soon led him to perform in the major Italian and European theatres.
Everywhere he achieved a resounding success for his virtuosity and his brilliant compositions: "It was never given to hear to such a phenomenon!" Schumann declared; Schubert called the sound of his violin "the voice of an angel" and Lizst himself considered it "unsurpassed". The instrument, subjected to periodic checks to insure its condition, is played regularly to ensure optimal conservation. On major occasions it is used in concert and the honour of playing it is reserved exclusively for musicians of proven talent and, in particular, for the winner of the international "Paganini Prize" a competition for young violinists.
The instrument is exhibited together with a copy, made in 1833 by the French luthier Jean-Baptiste Vuillaume, and other paganinian memorabilia, such as sheet music, documents, signed letters and some accessory parts of the cannon used by Paganini.
Loans
Columbus, OHIO
from 10/05/2019 to 21/05/2019
for the institutional transfer with the Mayor of Genoa
Genova, Palazzo Ducale
from 19/10/2018 to 10/03/2019
for the exhibition "Paganini Rockstar"