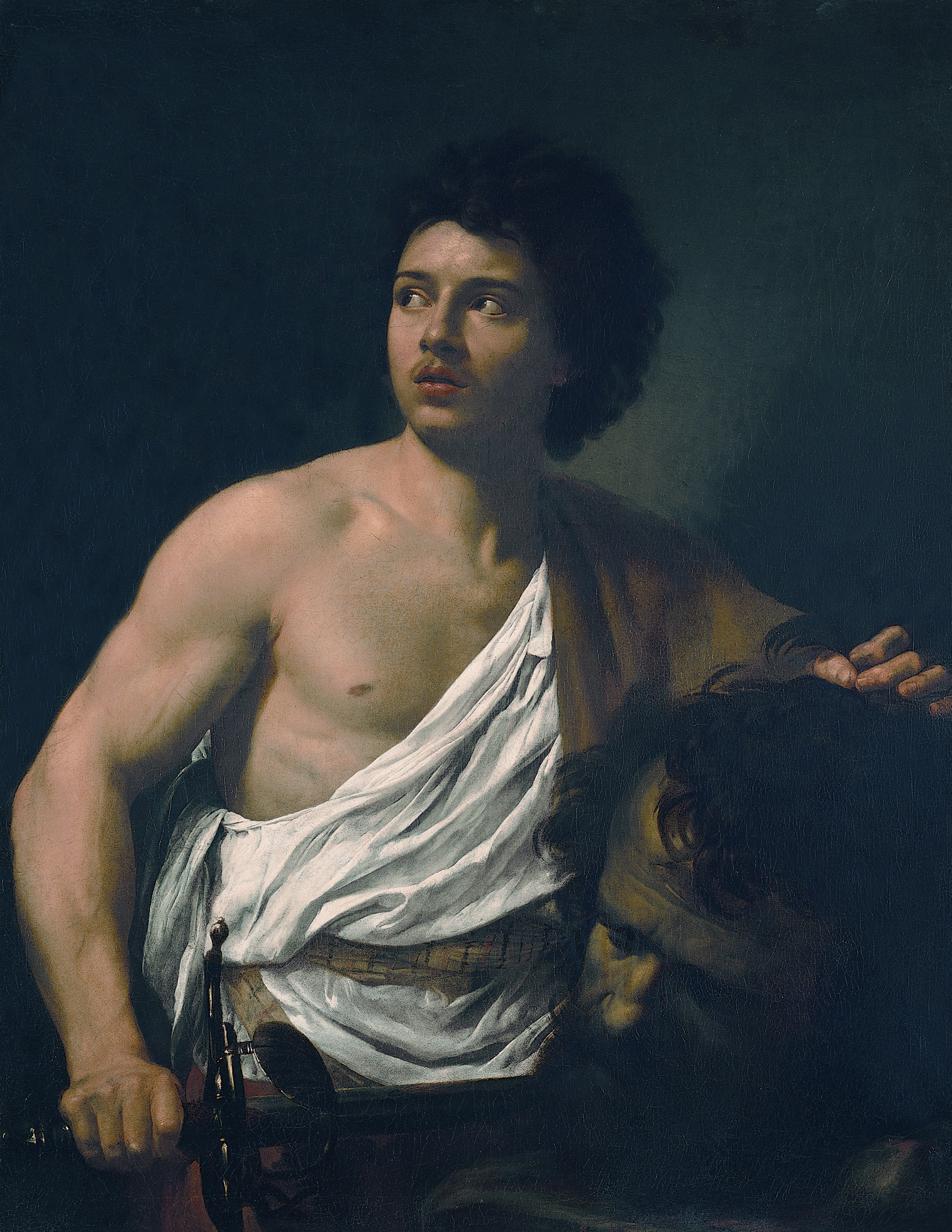 Click here to view image
Simon Vouet (Parigi, 1590 - 1649)
Technique and Dimensions:
Oil on canvas, 121 x 94 cm
Palazzo Bianco (inv. no. PB 2201)
Giovanni Battista Cambiaso Collection; bought in 1923
Simon Vouet, French "Caravaggist" painter, must have painted this beautiful canvas between 1620 and 1622, the years in which his stay in Genoa is recorded and probably more specifically, during the summer of 1621, when he was a guest in the villa of Sampierdarena of the brothers Marcantonio and Gio. Carlo Doria. They were among the most prominent figures of the city both from a financial point of view and also in terms of patronage of the arts. Vouet painted various works, including in all probability, this David with the head of Goliath which, twinned with a Giuditta (still in a private collection), was then transferred to the town residence of Gio. Carlo in Vico del Gelsomino, now Via David Chiossone. The inventory of the Doria, and the documents relating to the subsequent hereditary passages of the family assets, gives us a glimpse of a collection of extraordinary works of art: Gio. Carlo also owned a Saint Catherine by Vouet , today in a private collection, a San Sebastiano being treated by a group of pious women, today in the Condorelli collection, and a Portrait of his client, now in the Louvre.
The painting depicts David holding the head of Goliath, showing a moment when the boy, turning his gaze to a point outside the painting, and holding the giant's huge head in his left hand, seems to reflect on the enormity of his achievement, accomplished with the help of God.
The refined colour combinations, the impalpable movement suggested by the use of light, the introspective air, the realism, the rigorous compositional choices are a severe reinterpretation of Caravaggio, so much so that this David was called "la plus caravagesque de toutes ses oeuvres connues".
As in the best works of Merisi, the other protagonist of the composition is light. From outside the frame, it bathes almost the entire figure of David, who appears, almost taken unawares by this aurora and turning his gaze towards the light, his movement is frozen in an ecstatic pose, his lips parted, almost as if in the grip of a divine vision.
The work passed to the Cambiaso family in the 18th century, and was purchased for Palazzo Bianco in 1923.
Loans:
Milan, Gallerie d'Italia
from 30/11/2017 to 08/04/2018
for the exhibition "L'ultimo Caravaggio. Eredi e nuovi maestri"
Tokyo, The National Museum of Western Art
from 01/03/2016 to 12/06/2016
for the exhibition "CARAVAGGIO and His Time Friends, Rivals and Enemies"
Fort Worth, Texas, Kimbell Art Museum
from 21/10/2011 to 05/02/2012
for the exhibition "Caravaggio and his follower in Rome"
Utrecht, Central Museum
from 14/12/2018 to 24/03/2019
for the exhibition "Utrecht, Caravaggio e l'Europa"
Monaco, Alte Pinakothek
from 16/04/2019 to 21/07/2019
for the exhibition "Utrecht, Caravaggio e l'Europa"